Quilting Festival Chaired by Peg Mowrey '73 Will Benefit Charities
September 4, 2008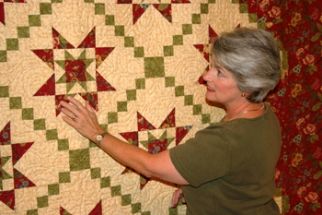 September 4, 2008, Greencastle, Ind. - "Festival chairperson Peg Mowrey first pieced together quilt patterns in the late-60s, when she was a student at DePauw University," reports the Daily Journal of Seneca, South Carolina. "But the Ohio native didn't get serious about quilting until 1981," writes Matt Wake. (photo at left courtesy Jessica Nelms/Daily Journal)
Margaret "Peg" (Hosic) Mowrey, a 1973 graduate of DePauw, is featured in a preview of the September 19 & 20 Lake and Mountain Quilters Guild Festival of Quilts. "Held roughly every two years, this year's event will boast 200 or so quilts, some by nationally known makers. A boutique, workshops, benefit auctions and children's instruction are also on tap," notes the newspaper.
Quilts will be auctioned each day, with the proceeds going to three charitable organizations. "Our 2006 auction raised well over $1,000 for each of the three charities chosen that year," Mowrey tells the Daily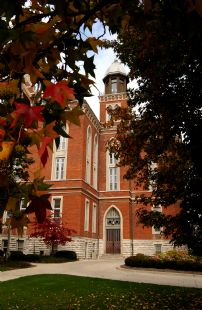 Journal. "And we're pleased and excited to know we'll have about 50 items for this year's auction, ranging in size from crib-sized quilts to small wall quilts."
A nursing major at DePauw and a former registered nurse, Mowrey adds, "Our guild members are especially giving of their time, talent and materials. Last year we made and donated well over 100 quilts to numerous locations, including Oconee Medical Center, local nursing facilities and shelters. Each month we hold a mini-raffle at our guild meetings, and the proceeds are donated to Lakeview Assisted Living to help provide little extras for their residents."
Access the complete article at the newspaper's Web site.
Back