Prindle Institute for Ethics Featured in Environmental Design + Construction
September 4, 2008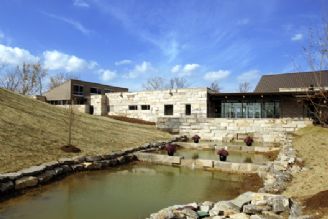 September 4, 2008, Greencastle, Ind. - "On any given day, students and faculty walk down the wooded path to get to the Janet Prindle Institute for Ethics at DePauw University," begins an article in Environmental Design + Construction magazine. "They are there for meetings, conferences or fireside discussions in the great room. They work on research papers and projects in the library, which is filled with natural light. While ethics is the subject of most of the work being done here, this facility fosters more than its share of intellectual productivity."
The article takes a detailed look at the Prindle Institute, which in the spring became the first building in Indiana to earn a LEED New Construction Gold 2.2 rating for energy efficiency and environmental design from the U.S. Green Building Council. Located in the DePauw University Nature Park, the Prindle Institute -- designed by Lake/Flato Architects and CSO
Architects with Shiel Sexton serving as contractor -- was dedicated last fall. (at right: former British Prime Minister Tony Blair visits with DePauw students and alumni at the Institute; March 3, 2008)
"From the start of the project, the team of University staff, facility planners, designers and contractors focused holistically on green design," writes Chuck Scholer. "They didn't get hung up on what level certification the building should be, try to over-commit or force a design element that might not have been successful or been right for the project. Because of that mindset, many of the green elements fell into place and became a natural fit for the building and the environment."
The text lists some of the environmentally-friendly features of the Prindle Institute, noting "the exterior walls and roof were designed to conserve energy and heat loss. Early results show an energy savings of about 55 percent." Ted Fares, director of facilties management at DePauw, tells the publication, "It's really
the money you spend between the walls that makes the biggest difference."
The piece also points out, "Colleges around the country, including DePauw, are making big gains when it comes to sustainable building practices. About two years ago, DePauw University President Robert G. Bottoms initiated DePauw's commitment to sustainable design. The first building under that new standard and commitment was the Institute for Ethics. Coincidentally when Janet Prindle, a DePauw alum, came forward to fund the facility, she too insisted that it be a green building. Administrators have seen a shift in students' interest in green design. Incoming students are more environmentally conscious and expect higher education institutions to be environmental stewards. Five years ago, prospective students would visit campus and ask questions about academics, faculty and athletics. Today, about 25 percent want to know about the school's sustainable design programs. That interest among its students and alumni are helping spurring green development projects on campuses nationwide."
Read the article in its entirety at the magazine's Web site.
A gift from Janet W. Prindle, a 1958 DePauw graduate, created the Institute, which was designed to make her alma mater "a destination for critical inquiry and
discourse" and nurture faculty members, students, staff and visitors "in forming new thinking to resolve critical problems."
The Bartlett Reflection Center, which is in the final stages of construction near the Prindle Institute within the DePauw Nature Park, has also been designed to obtain LEED certification.
On August 21, the National Wildlife Federation honored DePauw University for its efforts to promote sustainability in its report, "Campus Environment 2008: A National Report Card on Sustainability in Higher Education." Details can be found in this previous story.
Back