Computer Scientist William Wulf Coming as Phi Beta Kappa Visiting Scholar
September 7, 2008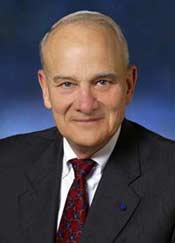 September 7, 2008, Greencastle, Ind. - Noted computer scientist William A. Wulf, who served as president of the National Academy of Engineering from 1996 to 2007, will come to the DePauw University campus this week as a Phi Beta Kappa Visiting Scholar. Thursday, September 11 at 4:15 p.m., Dr. Wulf will speak on "Responsible Citizenship in a Technological Democracy" in the auditorium of the Percy Lavon Julian Science and Mathematics Center. The lecture is free and open to all.
Guests are also invited to a pre-talk reception for Wulf at 3:30 p.m. on Friday at which refreshments will be served. Dr. Wulf will remain on the DePauw campus Friday to meet with classes, faculty and students to discuss topics such as digital techniques and the humanities, cybersecurity, and creating a better innovation ecology in the United States.
William Wulf is a University Professor and the AT&T Professor of Engineering in computer science at Virginia. He took a leave from the university to serve as president of the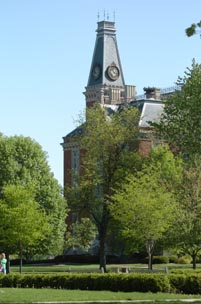 NAE, and during 1988-90 he was an assistant director of the National Science Foundation, where he led its efforts in computer and information science and engineering.
Prior to these positions, he was on the faculty at Carnegie Mellon University and founder and CEO of Tartan Laboratories, a computer software company. His research focused on computer architecture and computer security as well as on programming languages and optimizing compilers. In recent years he also has been deeply involved in public policy issues and in facilitating the use of information technology to support humanistic scholarship.
In addition to the NAE, he is a fellow of the American Academy of Arts and Sciences, a member of the American Philosophical Society, and a foreign member of the science and/or engineering academies of Australia, China, Japan, Romania, Russia, Spain and Venezuela. He has written three books and over 100 papers and technical reports.
Learn more about Professor Wulf in a July 2007 New York Times article, " Determined to Reinspire a Culture of Innovation."
The Phi Beta Kappa Visiting Scholar Program makes available
each year twelve or more distinguished scholars who visit 100 colleges and universities with chapters of Phi Beta Kappa. They spend two days on each campus, meeting informally with students and faculty members, taking part in classroom discussions, and giving a public lecture open to the entire academic community. The purpose of the program is to contribute to the intellectual life of the institution by making possible an exchange of ideas between the Visiting Scholars and the resident faculty and students. Now entering its 53rd year, the Visiting Scholar Program has sent 555 Scholars on 4,651 two-day visits since it was established in 1956.
Phi Beta Kappa is the oldest Greek-letter society in America, and the DePauw University chapter was the first established at an Indiana college and is one of fewer than 250 chapters at distinguished colleges and universities in the nation. Selection to the scholastic society represents the highest academic honor possible in the liberal arts and is based on students' scholarship.
Back