US and Russia Must "Pursue Cooperation, Not Confrontation," Writes Lee Hamilton '52
September 8, 2008
September 8, 2008, Greencastle, Ind. - Despite the tensions between Russia and Georgia, "A second Cold War is not under way," opines Lee Hamilton, the veteran statesman and 1952 graduate of DePauw University. In today's Indianapolis Star, he writes, "The world is not bipolar, the U.S.-Russian relationship is tense, but not at an end, and Russia's economy is in many ways integrated with the West. Russia must be taking note of the foreign capital that has fled the country since its aggression."
Russia's aggression, according to Hamilton, "has scared its neighbors, inspired trans-Atlantic unity, and exacerbated the challenges of integrating into the world order, a long-term Russian objective. Today the breakaway regions are satisfied, the Georgians are angry, the Kremlin is confident, and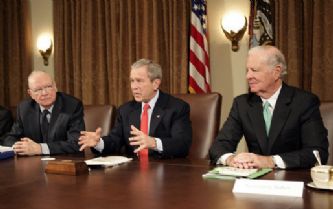 Russia's neighbors are perturbed. Meanwhile, an alarmed United States is speaking loudly and carrying a twig." (at right: Iraq Study Group co-chairs Hamilton and James A. Baker III with President Bush)
Hamilton, a Democrat who served 34 years in Congress and chaired the House Foreign Affairs Committee, argues, "The question is how to respond to Russia in a firm, unified way that avoids further escalation but expresses our strong disapproval. The West should insist that Russia withdraw troops to their pre-conflict positions. Suspending U.S.-Russia military cooperation, stepping back from a civilian nuclear agreement, and delaying Russia's accession to the WTO are reasonable policy courses, but each could be counterproductive. At stake is future Russian cooperation on securing loose nuclear weapons, curtailing Iran's nuclear program,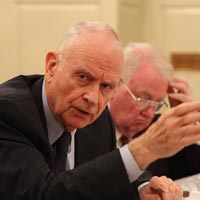 encouraging North Korean nuclear disarmament, and cooperation on counterterrorism."
He concludes, "The bottom line is that for Russia belligerence and international partnership are mutually exclusive. It remains in both the U.S. and Russian interest to pursue cooperation, not confrontation."
Access the complete essay, headlined "It's no second Cold War, but caution is required," at IndyStar.com.
Lee Hamilton, the director of the Woodrow Wilson International Center for Scholars in Washington, D.C., co-chaired the Iraq Study Group and 9/11 Commission and is currently serving on Sen. Barack Obama's working group on national security. This month, Hamilton will return to the DePauw campus to participate in DePauw Discourse 2008: America's Role in the World.
Back