Former VP Dan Quayle '69 Authors Standing Firm
May 22, 1994
May 22, 1994, Greencastle, Ind. - "This thoughtful book is probably the best thing ever written about the modern vice-presidency," opines Booklist of Dan Quayle's Standing Firm: A Vice-Presidential Memoir. Published by HarperCollins, the title has just arrived in bookstores. Quayle, America's 44th vice president under George H.W. Bush, is a 1969 graduate of DePauw University.
In Quayle's new text, Booklist's Ray Olsen asserts, "What he most signally accomplishes is to show what he did during his vice-presidency, feats that included much international diplomacy and, most impressively, handling, in the absence of President Bush (en route to the Malta summit with Gorbachev), the crisis of the most serious coup against Philippine president Cory Aquino."
Adds William D. Pederson in Library Journal, "By revealing his positive and negative aspects, Quayle comes across as a serious, insightful politician. Building on Richard Fenno's The Making of a Senator: Dan Quayle and David S. Broder and Bob Woodward's The Man Who Would Be President: Dan Quayle, the book is an intelligent, readable, and shrewd view of Quayle's past and possible future."
The publisher notes, "Standing Firm leaves no doubt that Dan Quayle is the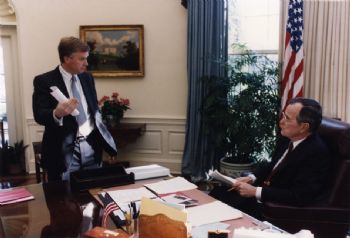 most misjudged figure in modern political history. Prior to 1988, Quayle had never lost an election. Not for Congress. Not even for the Senate. Heading into that year's Republican Convention, Quayle was considered one of the party's brightest young stars -- a man of unusual political instincts who, when it came to campaigning, had a reputation as a giant killer. He would become the first in his generation to hold national office, but only after a tumultuous contest that frequently put him on the defensive. With gritty honesty and admirable self-deprecation, Quayle describes what it was like to weather that 1988 media storm, and the other squalls that followed."
Learn more, and order the book, at Barnes & Noble.com.
Back