Richard Peck '56 Contributes to Our White House: Looking In, Looking Out
September 15, 2008
September 15, 2008, Greencastle, Ind. - Richard Peck, the Newbery Medal-winning author of books for young people and 1956 graduate of DePauw University, is among the 108 contributors to Our White House: Looking In, Looking Out. "The writers of this book, which took 10 years to put together, use essays, short stories and poetry to tell tales of the White House and its residents, showing how the building is really made of flesh and bone," writes the Washington Post's Tracy Grant.
The newspaper asks, "OK, how much do you know about William Henry Harrison? If you said, 'He was the ninth president,' we're impressed. But we can bet you don't know the sidesplittingly funny -- and true -- story about President Harrison that Peck recounts. It involves a milk cow and the White House; need we say more?"
Other contributors include Jerry Spinelli, Patricia McLaughlin and Jane Yolen. Opines Grant, "If you don't find one of your favorites in the pages of this book, we'll be surprised. We think after you look at this book, you'll look at the home at 1600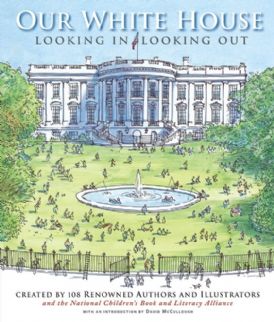 Pennsylvania Avenue in a whole new way."
Access the column at the Web site of the Detroit News.
Richard Peck has been called "America's best living author for young adults." The first children's book author to receive a National Humanities Medal and a former teacher, Peck was the 2001 recipient of the Newbery Medal (the top prize for children's literature given by the American Library Association) for A Year Down Yonder. Peck was also the 2002 winner of the Chicago Tribune Prize for Young Adult Fiction, and the 1990 winner of the prestigious Margaret A. Edwards Award, sponsored by the Young Adult Library Services Association of the American Library Association in cooperation with School Library Journal.
Learn more in this previous story.
Back