Criticism of Sarah Palin Sounds Familiar to Former VP Dan Quayle '69
September 16, 2008
September 16, 2008, Greencastle, Ind. - Dan Quayle says the criticism Gov. Sarah Palin has faced since being named as John McCain's running mate was leveled "almost verbatim at me" during the 1988 campaign. Quayle, America's 44th vice president and 1969 graduate of DePauw University, tells nationally syndicated columnist Cal Thomas, "People who supported us were called by the media and our opponents 'dumb' and 'mean-spirited.'"
Quayle remembers the "running battle [Democratic presidential nominee Michael] Dukakis and I had for two weeks in 1988," and that the attacks proved damaging to Dukakis' polling numbers. "I just hope they continue to go after her."
Quayle, who was elected to two terms in both the the U.S. House of Representatives and U.S. Senate before being selected as George H.W. Bush's running mate at age 41, is asked if Palin has enough experience to serve as vice president. He tells Thomas, "By January 20, she's going to have a lot more knowledge than she has today. Every single day she will gain valuable experience working with John McCain."
Access the complete column at the Web site of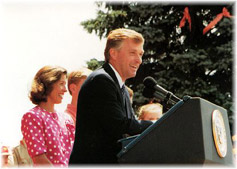 California's Modesto Bee. Another story can be found in the Los Angeles Times.
Learn more about Dan Quayle, chairman of global investments for Cerberus Capital Management, in this previous story.
A member of DePauw's Athletic Hall of Fame, Dan Quayle has authored three books, including the 1994 bestseller Standing Firm: A Vice Presidential Memoir. He delivered the commencement address at his alma mater on May 22, 1982.
Back