John Edwards "Probably Finished in Elective Politics," Dan Quayle '69 Tells NBC
August 11, 2008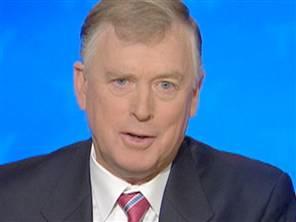 August 11, 2008, Greencastle, Ind. - "John Edwards' admission of an extramarital affair late last week likely means the end of his elective political career, according to former Vice President Dan Quayle," notes a story at NBC.com. Quayle, a 1969 graduate of DePauw University, told Today's Matt Lauer this morning that Edwards is "probably finished in elective politics."
America's 44th vice president added that Edwards may continue to be a voice in the political process, even if his personal issues have dashed his hopes for elected office. "If he wants to come back at some later time, not in an elective position, but to speak out on issues that he believes in and travel the country and the world, I think he'll probably be able to do it," Quayle told the news program.
The former senator and congressman says he would not rule out Barack Obama selecting Hillary Rodham Clinton as his running mate, and lists Sam Nunn, Bill Richardson and Joe Biden as other Democratic possibilities.
On the GOP side, Quayle says, "I think John McCain probably knows who it's going to be. It may be between two people. [But] I think Barack Obama has a more difficult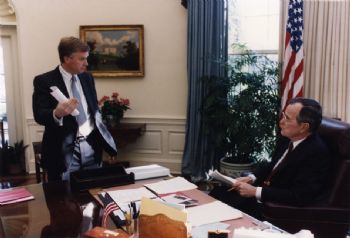 selection, particularly with the Russia-Georgia conflict going on. It probably will rule out some of the folks that he's considered who really don't have any foreign policy experience." (at right: Vice President Quayle with President George H.W. Bush)
Read more, and access a video clip, at MSNBC.com.
Another recent story on Dan Quayle -- who was a political science major at DePauw and later earned a degree from the Indiana University School of Law -- can be found by clicking here.
Back