Campus Neighbors Band Together to Improve Sidewalks
September 19, 2008
September 19, 2008, Greencastle, Ind. - "It's pretty exciting that DePauw, St. Andrews Episcopal Church, two fraternities and two sororities as well as the private homeowner neighbors got together to fund this project without needing any funding from the city," Neal Abraham says. DePauw's executive vice president is quoted in today's Banner-Graphic in a story detailing how Greencastle neightbors came together to make sidewalk repairs along a two block stretch of East Seminary Street between Bloomington and Locust Streets.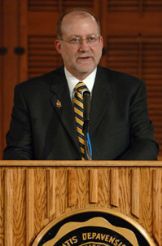 "The sidewalk project began once Paul Wright, house director at the Alpha Tau Omega independently began curb replacement. Once neighbors Dave Murray and Neal Abraham saw this they began a campaign of their own," writes the paper's Kevin Crafton. "After we talked with Paul Wright, we were inspired," notes Dr. Abraham (pictured at right), who is also vice president for academic affairs and dean of the faculty at DePauw. "We first went to all our neighbors to ask them if they would be willing to chip in to fix the sidewalks in front of their homes."
"There was no money used from the city or from grants on this project," says Greencastle Mayor Sue Murray. "It was all privately funded by the residents along the street as well as St. Andrew's Episcopal Church, Alpha Tau Omega and Delta Tau Delta fraternities, Alpha Chi Omega sorority and DePauw University."
Access the item at the newspaper's Web site.
Back