Guest Organist Larry Smith Performs September 30
September 24, 2008
September 24, 2008, Greencastle, Ind. - The DePauw School of Music welcomes guest organist, Larry Smith, to perform a Tuesday, September 30 concert on the J. Stanford Smith '36 Concert Organ. You're invited to attend the free event, which begins at 7:30 p.m. in Kresge Auditorium of the Judson and Joyce Green Center for the Performing Arts.
Larry Smith is a member of the organ faculty at Indiana University, Bloomington. For many years he maintained a career as a concert organist of national recognition, having performed solo recitals for three consecutive national American Guild of Organists conventions in 1982, 1984 and 1986. He also served as one of the judges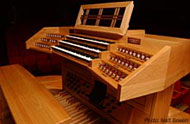 for the 1988 National Young Artists Competition in Organ Performance in Houston, Texas.
Smith began his study of the organ in Guttenberg, Iowa, with John G. Lammers. He graduated from Drake University, Des Moines, Iowa, (B.M. 1965) studying with Russell Saunders. He continued formal educational degrees at Syracuse University (Syracuse, New York) where he was a student of Arthur Poister, and graduated from the Eastman School of Music, Rochester, New York, with a Doctor of Musical Arts degree. His work at Eastman was with David Craighead; he also earned the school's prized Performer's Certificate in Organ.
The DePauw concert will feature works by Johann Sebastion Bach, Louis Couperin, César Franck, and Marcel Dupré. The concert repertoire displays a variety of pieces, but also holds sentimental value, as Smith explains in his program notes.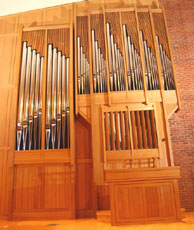 "The second half of this evening's program was chosen for a rather personal reason of wishing to play a work I had studied with each of my three major college teachers," he writes. "The Couperin work I first played on my senior (college) recital. The Franck work I studied as master's degree student. The final work is often played and perhaps one of the favorite of the entire Dupré oeuvre. I first learned this work in my final year of my doctoral study. All three of the French works were part of degree recitals, and this 'visit to the past' is my way of paying respect and tribute to those teachers who were patient and kind to me in my earlier years."
Smith is the first of two prominent guest organists who will visit campus this semester. John Schwandt will be performing in Kresge Auditorium on October 31 as part of the Performing Arts Series.
For more information about School of Music Events or organ study at DePauw, visit the DePauw University School of Music online.
Learn more about the J. Stanford Smith '36 Concert Organ, which was dedicated in 2003.
Back