Cartoonist Alison Bechdel Concludes Women's Week with Wednesday Lecture
September 21, 2008
September 21, 2008, Greencastle, Ind. - Graphic novelist Alison Bechdel, whose "tragicomic" Fun Home was the 2007 winner of the Will Eisner Comic Industry Award and a finalist for the 2006 National Book Critics Circle Award, will come to the DePauw University campus to conclude Women's Week. Bechdel will speak on Wednesday, September 24, at 7:30 p.m. in the auditorium of the Richard E. Peeler Art Center. The presentation, "Draw a Memoir: Alison Bechdel Discusses Fun Home and Other Works to Watch Out For" is free and open to all.
From 1983 to 2008, Bechdel penned a weekly comic strip, Dykes to Watch Out For, that was published in lesbian, gay and progressive newspapers across the United States. In addition to Fun Home, which spent two weeks on the New York Times bestseller
list, Alison Bechdel has published twelve collections of Dykes to Watch Out For. She is currently at work on a new memoir.
The Eisner Award is given for creative achievement in comic books. Previous recipients include Art Spiegelman, who spoke at DePauw in 2001.
In a September 2 report, NPR's All Things Considered noted, " Twenty-three years ago, in a strip headlined 'The Rule,' cartoonist Alison Bechdel promoted an idea: That women on screen ought to express their real feelings about all aspects of their lives. That ultimately, the women on TV and in movies ought to be characters, not cliches. We wanted to apply her test to the women we see on television. And we invited some experts to make up their own rules about nonwhite characters, too."
Access the report here, as well as a July 2006 profile of Bechdel. (below left: Naomi Wolf visiting the DePauw Women's Center on September 21, 2005)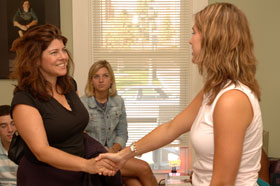 Women's Week 2008 celebrates the fourth anniversary of the opening of the DePauw Women's Center at 306 East Hanna Street. Scheduled events include guest speakers on sexual assault and early childhood education, presentations on various women's health issues, Knit Nite, and a film.
The Women's Center serves as a resource for students, faculty, staff, and the Greencastle community interested in acting on behalf of women's issues at DePauw. It is open throughout the school year, weekdays from 10 a.m. to 10 p.m.
Wednesday's event is co-presented by the departments of art and women's studies; United DePauw; Public Occasions Committee; the offices of multicultural & community life and residence life; and the University's galleries, museums and collections.
Back