Today's Wall Street Journal Column by James B. Stewart '73 Inspired by DePauw Musical
September 24, 2008
Also: DePauw Theatre Presents World Premiere of Einstein and The Roosevelts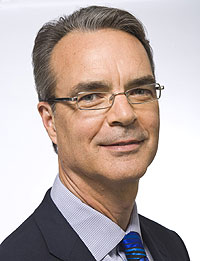 September 24, 2008, Greencastle, Ind. - "As president, Franklin Roosevelt confronted far more dire circumstances than anything we've experienced in my lifetime, let alone last week, and yet he never succumbed to panic, desperation, greed or, most famously, fear," begins a column by James B. Stewart, published in today's Wall Street Journal. A 1973 graduate of DePauw and a member and former chair of the University's Board of Trustees, Stewart says the inspiration for the essay came during his visit to the Greencastle campus last week.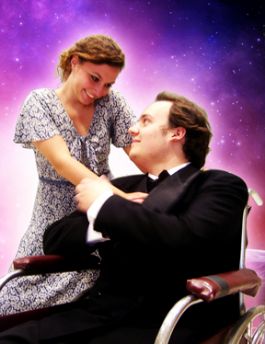 "The idea for the piece came to me Saturday morning as I sat in the Green Center for the Performing Arts watching a preview of the musical, Einstein and The Roosevelts," reports Stewart, who returned to campus for DePauw Discourse 2008: America's Role in the World. "As I enjoyed the terrific new work by Gretchen Cryer and Nancy Ford and the wonderful performances by the students, I was reminded that the American economy has had its back against the wall before and FDR's call for 'bold, persistent experimentation.' It's a timely history lesson and a great show." (at right: DePauw students Andrea Krider and Andrew Richardson in Einstein and The Roosevelts)
Jim Stewart's column, "Time to Ask What You Can Do for the Markets," can be accessed at the Journal's Web site.
The world premiere of Einstein and The Roosevelts -- the opening production of the 2008-09 DePauw Theatre season -- is set for next weekend. Learn more about the musical and its creators -- both 1957 graduates of DePauw -- in this recent story.
James B. Stewart received a Pulitzer Prize for
Wall Street Journal articles on the 1987 stock market crash and the insider-trading scandal. Now editor-at-large of SmartMoney magazine, the 1973 DePauw graduate's other books include DisneyWar: The Battle for the Magic Kingdom; as well as Den of Thieves; Blind Eye; Follow the Story; Blood Sport and Heart of a Soldier: A Story of Love, Heroism, and September 11th. The San Francisco Examiner calls Stewart, who served as editor of The DePauw while a student in Greencastle, "the journalist every journalist would like to be." In 2006, he won the Loeb Award, the highest honor in business journalism.
Stewart received DePauw's Young Alumni Award in 1988, an Alumni Citation in 1988, and an honorary Doctor of Journalism degree in 1989. Read more in this previous story.
Back