Local Community Center Renamed in Honor of President Emeritus Robert Bottoms
September 27, 2008
September 27, 2008, Greencastle, Ind. - The Family, Youth and Community Development Program's community center, located at 605 Crown Street in Greencastle, has been renamed the Robert G. Bottoms Community Center in honor of the president emeritus of DePauw University. A celebration was held this morning to honor Dr. Bottoms and to officially rename the center, which was donated by DePauw to FYCDP during Bottoms' presidency. (photo, l-r: De Wayne Norris, Robert Green and Eobert G. Bottoms)
"Dr. Bottoms has done much to improve this community over the past thirty years, and this building will serve as a tribute to his good deeds and kind spirit," says De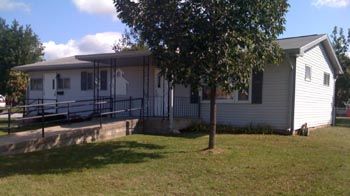 Wayne Norris, founding director of the FYCDP. "One of Bob's many acts of building a stronger Greencastle was his overseeing the donation of the center to our organization five years ago. This is a small way of saying 'thanks' and will remind members of the community who visit the center every day of the good things Dr. Bottoms and DePauw do to benefit local citizens."
Adds Dr. Robert Green, president of the FYCDP board and superintendent of Greencastle schools, "In other college towns, it's been my experience that a University asks a community, 'What can you do for us?' With DePauw, it's always, 'What can we do for you?' Bob Bottoms supported an effort to do a peace training model for Greencastle schools and helped us hire the second black administrator in our school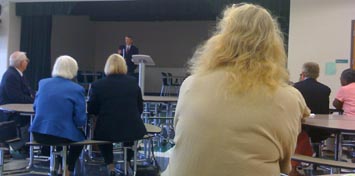 district's history five years ago. He has continued to be a valuable ally in helping diversify our schools. FYCDP would not exist without his efforts, so this is a most fitting tribute."
"To say I'm humbled is an understatement," says Bottoms, who came to DePauw in 1978 and served as president from 1986 until this summer, when he stepped aside to lead the Janet Prindle Institute for Ethics. "There are many in our community who could be credited for the good work the FYCDP does through this center. Substantial things happen when people work together, and this center is proof positive of that."
The Robert Bottoms Community Center, which is a partnership between the FYCDP and local NAACP, brings residents of Greencastle's South End together for a variety of programs and
activities with a goal of promoting fellowship and a stronger sense of community.
The longest-serving president in the University's 172-year history, Robert Bottoms was named a "Posse Star" in 2004 and was the 2000 recipient of the CASE V Chief Executive Leadership Award. In September 2002, the Chronicle of Higher Education cited Dr. Bottoms as one of America's long-term college presidents who enjoyed both staying power and success. He was honored with a proclamation from the Board of Trustees in April.
Hear Dr. Bottoms' commencement address to DePauw's Class of 2007 via this story.
Back