New Film Gives Community Organizers the Respect They Deserve, Writes J. Nichols '89
September 25, 2008
September 25, 2008, Greencastle, Ind. - Several speakers at this month's Republican National Convention made the term "community organizer" a punch line in their addresses, writes Wallace J. Nichols, a marine biologist and 1989 graduate of DePauw University. "I guess the point they were trying to make was that organizing a community and solving local problems just doesn't compare to being a 9/11 mayor, a POW, or a small town hockey mom in Alaska," Dr. Nichols writes in Good Times, a weekly newspaper in Santa Cruz, California. "I'll grant them that. They are very different activities. The reasons [Gov. Sarah] Palin and [Rudolph] Giuliani's attacks slipped by people as being acceptable, even funny, are probably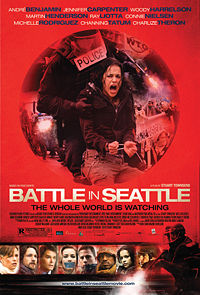 because the noble American tradition of community organizing is one the mass media largely ignores. But that's about to change."
Nichols urges readers to see the "stunning and powerful" new film, Battle in Seattle. Directed by Stuart Townsend and starring Woody Harrelson, Ray Liotta and Charlize Theron, the movie "depicts the peaceful protests by thousands of citizens that led to the shut-down of the World Trade Organization's meeting in 1999, an important piece of our recent history that few remember other than the media's depiction of a few renegade vandals."
Nichols, senior scientist at the Ocean Conservancy, declares, "my favorite community organizer in the film is the character Django played by Andre Benjamin (aka Andre 3000 of Outkast). His concerns center around sea turtles, industrial fishing and protecting the ocean. But, as he explains, 'If you feel a ruling that threatens an endangered species is any different from, say, millions of working class jobs being outsourced, or the quality of our environment, or our food getting worse, you're just not connecting the dots.'"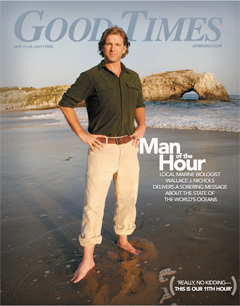 The scientist responsible for groundbreaking research on the migration of sea turtles states, "Peaceful marches, sit-ins, walk-outs, boycotts, get-out-the vote drives, public hearings, whistle-blowing and strikes are responsible for many of the rights and freedoms we hold near and dear here in the United States. Our air and water are cleaner, our food safer and our society better thanks to countless, nameless community organizers. Chances are that one of your neighbors is directly responsible for some attribute of your community that makes it more livable, whether it's the lack of oil wells in your backyard, a new stoplight at a dangerous intersection, a cleaner lake, safer streets, a church youth program, or hot meals for the hungriest people."
Read the essay in its entirety at the publication's Web site.
J. Nichols, who goes by his middle initial, appears in Leonardo DiCaprio's documentary, The 11th Hour and was one of nine "eco-all-stars" cited in the March 2008 issue of Outside magazine. Nichols also was one of the participants in DePauw Discourse 2007. A summary of his remarks -- including video and audio clips -- can be found in this previous story. He was featured on the cover of Good Times in May 2007.
Back