Monon Bell Ticket Sales Begin October 27
September 25, 2008

[Download Video: "Ballad of the Monon Bell - 2007 Version" - 10,419kb]

[Download Audio: "Ballad of the Monon Bell - Stereo" - 2514kb]
Also: Pre-Order 2008 Monon Bell DVD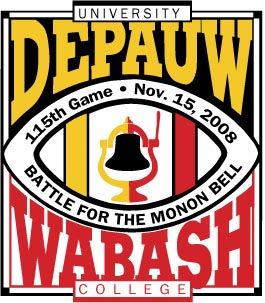 September 25, 2008, Greencastle, Ind. - Tickets for the 115th Monon Bell Classic -- the November 15 football game between DePauw University and Wabash College in one of the nation's longest and greatest football rivalries -- will be available beginning Monday, October 27, in the DePauw University Bookstore, which is located in the lower level of the Memorial Student Union Building. Tickets, which are $15 each, may be purchased in person or over the phone with a credit card by calling (765) 658-4926.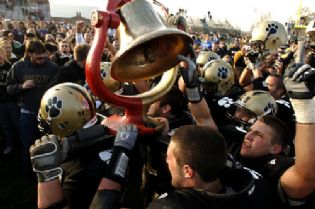 This year's contest will be played at Little Giant Stadium in Crawfordsville with kickoff set for just after 1 p.m. The game will again be nationally televised in high definition on HDNet and be distributed via campus cable. Details on the telecast and alumni parties being organized in cities across America can be found in this previous story. (at right: DePauw players and fans celebrate a thrilling victory in the 2007 game;

[Download Video: "2007 Monon Memory" - 7808kb])
There is a limit of eight tickets per order. All phone orders include a $1 shipping charge for standard U.S. mail delivery.
Next day shipping is also available at an extra charge. All tickets sold at DePauw are for seating on the DePauw side only.

[Download Video: "1892 Monon Memory" - 2422kb]
The DePauw Bookstore is open from 9 a.m. to 5 p.m. Monday through Thursday, 9 a.m. - 3 p.m. on Fridays and 10 a.m. - 2 p.m. on Saturdays. (at right: poster for the 1934 Monon Bell game)

[Download Video: "1964 Monon Memory" - 3719kb]
"This is annually a very popular event and I can't stress enough the importance of purchasing the tickets as early as possible." DePauw director of athletics Page Cotton said.
[Download Video: "1981 Monon Memory" - 5633kb]
The November 15 game will be the 77th for possession of the Monon Bell, which was introduced as the winner's prize in 1932. Wabash leads the all-time series 53-52-9, while DePauw leads in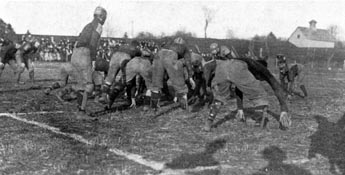 games played for the Monon Bell by a 36-34-6 count.

[Download Video: "1932 Monon Memory" - 3518kb]
To learn more about the series, visit the Monon Bell Web page, where you can also access video clips of past games: "Monon Memories." (above right: photo of the 1906 DePauw-Wabash game)
Details of this year's commemorative Monon Bell DVD will be announced in the coming days. Still available are discs of the 2001-07 battles, although supplies are extremely limited of the 2002 and 2007 DVDs. Information can be found here, or go to an online order form.
Back