Lee Hamilton '52 Offers 'The Ten Commandments of Citizenship'
September 26, 2008
Also: Lee Hamilton '52 at DePauw Discourse 2008
September 26, 2008, Greencastle, Ind. - "If you believe the polls and the rhetoric, this election is about change in Washington," writes Lee Hamilton, who served 34 years in the U.S. House of Representatives and co-chaired the Iraq Study Group and 9/11 Commission. The 1952 DePauw University graduate adds, "Yet I have news for you: Only an engaged citizenry can help heal our system. To get change in Washington, it has to begin with you. (at left: Hamilton with DePauw students in historic East College)
In a newspaper op-ed, Hamilton offers his "Ten Commandments of Citizenship." They call upon Americans to, among other things, vote, be informed, communicate with their representatives, become involved in their communities, and strive to better understand how democracy works and build consensus.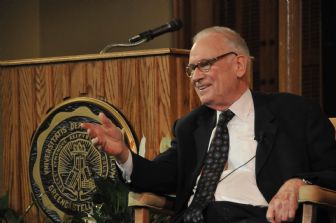 The veteran statesman concludes, "Understand that our system is not self-perpetuating; it demands our involvement to survive. Just because it has worked in the past does not mean we will have a free and successful country in the future. Lincoln's challenge is still urgent: whether this nation so conceived can long endure. Being a good citizen isn't something one does just for the heck of it; it's critical to the success of our nation."
Read the essay in its entirety at the Web site of Wisconsin's Madison Capital Times.
Lee H. Hamilton is director of the Woodrow Wilson International Center for Scholars in Washington, D.C. and the Center on Congress at Indiana University. He returned to the DePauw campus last week to discuss "America's Role in the World" with FOX News Chief White House Correspondent Bret Baier '92. A summary of that event -- including video and audio clips -- can be accessed here.
On September 10, the bi-partisan Partnership for a Secure America, which Hamilton co-chairs, gave the nation's anti-terrorism efforts a grade of C. This story provides details.
Back