Newspaper Profiles Former Prof. Saad Ibrahim, Among World's "Most Prominent Human Rights Activists"
September 26, 2008
September 26, 2008, Greencastle, Ind. - "I was one of his students when I was a freshman in college," says 1973 DePauw University graduate Nancy Lethem of her former professor, Saad Eddin Ibrahim. "It was an incredible experience. He was very inspiring and very dedicated to democratic ideals, even then."
Dr. Ibhrahim, a human rights activist who was jailed in Egypt three times for his pro-democracy activities, taught sociology at DePauw from 1967 to 1974. He is now at Indiana University in Bloomington "serving as a visiting professor of political sociology this semester," reports the Herald-Times. "Next semester, he will serve in a similar capacity at Harvard, although he will continue to maintain a connection to IU through the [Indiana Democracy
Consortium," writes Mike Leonard.
"Saad Ibrahim is a major sociologist and public intellectual who also happens to be one of the most prominent human rights activists in the Middle East and indeed, the world," Jeffrey Issac, a political science professor at IU and director of the Democracy Consortium, tells the newspaper.
The article notes, "Ibrahim's first period of residency in the U.S. began in 1967 after he was booted out of Egypt for criticizing the government for human rights abuses, fraudulent elections and undemocratic policies. He landed at DePauw University
in Greencastle, where he taught sociology until 1974."
Professor Ibrahim tells the newspaper, "These were very important years in my formation as I look back to those years, still fresh out of the great '60s. You had the civil rights movement, the anti-war movements, the environmental movement, the women's movement. So being a part of that, you go back (to Egypt) with these ideals and this inclination to do something about what's wrong ... I was part of the overall climate of activism wanting to remake the world in a better shape and put it on the right track."
He adds, "It didn't really matter if you were American or European or Asian, it's all the same cause. The words global and globalization were not used at that time but it was really kind of held in that sense we are all part of the small village, the global village that (philosopher and author Marshall) McLuhan talked about."
Saad Ibrahim's wife, Barbara Lethem, is a 1971 DePauw graduate and Nancy's sister.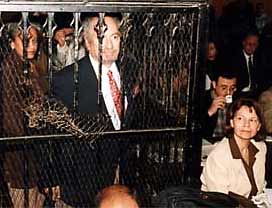 If he returns to Egypt, the 69-year-old Ibrahim stands to be jailed for a fourth time after being convicted in absentia for writing a Washington Post column in which he outlined the Egyptian government's human rights abuses.
"Everyone has counseled him to stop being so outspoken, but we also have known in our heart of hearts he never will," says Nancy Lethem. "It's so much a part of who he is that he would just as soon cut off his right leg than stop working for democracy in Egypt and the Middle East. At the same time, he has given us an opportunity at every level of our family lives to be involved in something that has meaning way beyond what we are doing in our personal lives. He is always hopeful. No matter what the obstacle, he is always hopeful. Saad always believes, and he's always believed, that he can make a difference. And the struggle is never over."
The full story can be accessed by subscribers of the Herald-Times at the paper's Web site.
Dr. Ibrahim was among the participants in last week's DePauw Discourse 2008: America's Role in the World. He also asked former U.S. Secretary of State Madeleine Albright a question during her presentation and she prefaced her response by commending Ibrahim for his activities in support of democracy.
Learn more about Saad Eddin Ibrahim, who received an honorary doctoral degree from DePauw in 2004, in this previous story (video is embedded below). Also access video of an interview with PBS' Charlie Rose.
Back