Dick Tomey '60 Praised for Returning "Credibility" to San Jose State U Football Program
September 29, 2008
September 29, 2008, Greencastle, Ind. - "San Jose State is in our largest media market; we need SJSU to be successful," says Karl Benson, commissioner of the Western Athletic Conference. "And Dick Tomey has brought back credibility to Spartan football." Tomey, the head coach at San Jose State University since 2005, is a 1960 graduate of DePauw University.
Tomey's team improved to 3-2 on the season and 1-0 in the WAC with a 20-17 comeback victory at Hawaii Saturday night.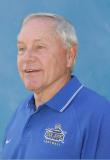 "We have a really good kicker [Jared Strubeck] and he kicked two amazing field goals," Tomey declared after the contest. "It was just a great win for us. We had lost two games in the fourth quarter on the road and we're playing the defending champions who won 15 straight."
Read the commissioner's comments in the Salinas Californian and a summary of Saturday's game in the San Jose Mercury News.
Dick Tomey has also served as head football coach at the University of Hawaii and the University of Arizona, compiling a career record of 178-131-7. A member of the DePauw Athletic Hall of Fame, Tomey serves as first vice-president of the American Football Coaches Association. Learn more about him in this previous story.
Back