Record-Setting 440K Unique Visitors Came Here in September
October 1, 2008
October 1, 2008, Greencastle, Ind. - Traffic at this Web site reached record levels in September, with more than 440-thousand unique visitors to DePauw.edu, obliterating the previous record by almost 50-thousand and increasing by almost 50% from the levels of September 2007. There were also more than 24-million "hits" last month -- 802,459 per day -- just shy of the record 24.1 million registered in November 2007.
"The number of unique visitors -- a key gauge of a Web site's success -- to DePauw.edu has more than quintupled since 2003," says Jason Shore, who leads the University's Web team. "The statistics indicate that members of the DePauw family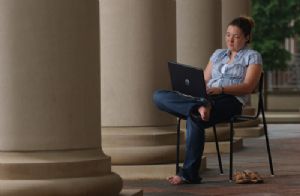 are making the site a daily destination and that we continue to draw increasing numbers of visitors who have no connection with the University."
"Given that the DePauw universe of alumni, students, faculty and staff totals around 37,000 people, it's clear that the vast majority of visitors -- in fact, more than 90% -- are being drawn to the site by a search engine or a news item that may have been sent by a friend," adds Ken Owen '82, executive director of media relations, who creates the news content (Bill Wagner, director of sports information, updates the athletics page). " In short, that means the name 'DePauw' has increasingly stronger currency."
September 2008's 440,557 unique visitors (a statistic which counts each user once per month) eclipses the previous high mark of March 2007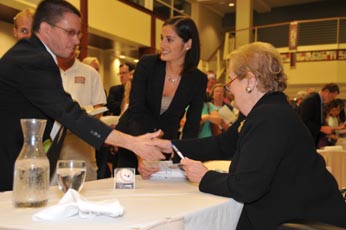 (393,159). The 24,073,526 hits registered last month came close to matching last November's total of 24,183,802, when the site was bombarded in the days and weeks following a thrilling Monon Bell Classic. November 2007 remains the all-time high month for page views (6,786,020), while March 2007 still holds the top mark for visits (1,293,553).
News continued to be the top driver of traffic to DePauw.edu, and visitors found 184 new stories (118 in news and 66 in athletics) posted during the month of September. The most-read articles included previews of next week's inauguration of President Brian W. Casey; the announcement of Third Eye Blind's October 10 concert; the September 15 signing of the American College & University Presidents Climate
Commitment; Madeleine Albright's September 19 address to DePauw Discourse 2008; plans for the Monon Bell ticket distribution; the opening convocation summary, which included video of the new students processing toward the Green Center for the Performing Arts; "Andy Warhol: Faces and Names" at the William Weston Clarke Emison Museum of Art; a Wall Street Journal column by James B. Stewart '73 which was inspired by the new musical, Einstein and The Roosevelts; Professor David Alvarez's receipt of a Fulbright Award; and an Indianapolis Monthly profile of Indianapolis Colts quarterback Peyton Manning by Professor Tom Chiarella.
Besides news and athletics, other popular destinations included Web pages for the University libraries, campus calendar, and the football team.
The average visitor spent 15 minutes and 31 seconds, per visit, at this Web site. At least 8% of the traffic came from foreign countries, the top being: Australia, Canada, Brazil, China, United Kingdom, Netherlands, Mexico, Uruguay, Germany, France, Spain, Argentina, Norway, Sweden, Taiwan, Italy and Japan.
| | | | | |
| --- | --- | --- | --- | --- |
| | Hits | Unique Visitors | Visits | Page Views |
| September 2008 | 24,073,526 | 440,557 | 921,434 | 6,202,065 |
| Sept. 2007 | 20,772,936 | 297,654 | 1,073,995 | 4,767,090 |
| Sept. 2006 | 19,527,938 | 305,235 | 1,121,446 | 4,446,040 |
| Sept. 2005 | 16,941,609 | 178,879 | 815,614 | 3,609,822 |
| Sept. 2004 | 10,892,473 | 127,606 | 544,287 | 2,636,015 |
| Sept. 2003 | 9,413,867 | 81,171 | 445,489 | 1,975,013 |
| Sept. 2002 | 7,260,618 | 64,445 | 362,884 | 1,302,091 |
| Sept. 2001 | 4,731,435 | 38,056 | 241,615 | 897,918 |
| Sept. 2000 | 2,869,341 | 24,621 | 143,200 | 696,035 |
("hits" is a count of all the successful hits including HTML pages, pictures, forms, scripts and files downloaded; unique visitors counts each user once per month; visits counts every time a user visits the site)
Back