All 114 DePauw-Wabash Football Games Now Commemorated with 'Monon Memories'
October 2, 2008
Also: Complete List of 'Monon Memories'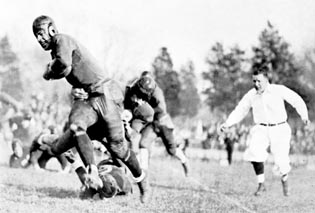 October 2, 2008, Greencastle, Ind. - With the completion of the 1890 "Monon Memory" tonight, all 114 games in the college football rivalry between DePauw University and Wabash College -- one of America's oldest and closest -- are now represented by video clips. It is believed to be the nation's only long-running rivalry to be so documented. (at left: 1934 Monon Bell game action)
The clips are the work of Ken Owen, executive director of media relations at DePauw. In 2002, he decided to create vignettes of selected Monon Bell games to be used during time outs in the annual football telecast. The first "Monon Memory" he produced was from the thrilling 2001 game [

[Download Video: "2001 Monon Memory" 4124KB]; which was recently recut:

[Download Video: "2001 Monon Memory" - 3701kb]].
"I started with a goal of creating about 15 segments so that we could swap different ones in each year and keep the telecasts fresh," says Owen, a 1982 graduate of DePauw. "Before long, I was uncovering amazing film footage and, after exhausting that, historic photographs of the games and some of the series' legendary figures and stories. All along, I was working backward and was never certain what I'd find or if it would be possible to document all 114 games."
"The Monon Bell rivalry is such a special one and the 'Memories'
help set it apart from any other in the country," says DePauw head football coach Matt Walker '99. "They truly capture its unique history." (at left: DePauw's 1892 football team)
"The completion of the Monon Memories project represents remarkable and dedicated work by Ken Owen," adds Jim Amidon, director of public affairs and marketing at Wabash College. "He set out to create some bumper material to use in our telecasts of the Monon Bell Classic and discovered the richness -- and sheer breadth -- of our amazing rivalry. By diligently combing through the archives at both DePauw and Wabash, reviewing old game films, and scanning literally thousands of yearbook pages, Ken has brought to life all 114 games in the greatest rivalry in the land. Those of us at Wabash are proud of Ken's work -- and proud to share the rivalry with our worthy opponents at DePauw."
With the assistance of Wes Wilson, DePauw's archivist, and his staff,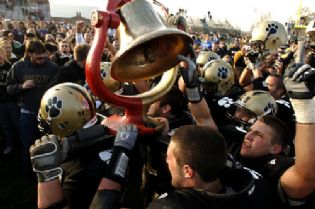 films were uncovered of battles for the Bell dating back to 1940. All of the rivalry game stories prior to that year, and for many of the contests played between 1941 and 1978, relied on photographs from DePauw, with assistance from Amidon and the Wabash Archives.
Bill Wagner, director of sports information at DePauw, was also key in providing newspaper accounts of past games and serving as a consultant to the project.
The film footage includes the 1955 last-second field goal by DePauw's Fred Williams, including audio from the WGRE radio broadcast of that game; the 1977 ABC regional telecast that featured play-by-play by Jim Lampley; color images from the 1941 dedication of Blackstock Stadium; and a rare interview with Bob Steuber, who came to DePauw as a Navy V-5 student after playing for the NFL's Chicago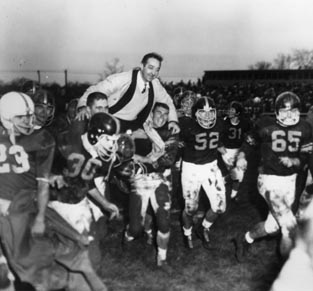 Bears, and went on to lead the nation in scoring in 1943. The oldest film, from 1938, shows DePauw playing Evansville. For games which were televised, the original play-by-play was used. Owen -- who researched, wrote and edited all of the segments -- provided the narration for the older clips.
The 112 clips (there were two games each in 1900 and 1901) are available for online viewing via this link or at YouTube. They have been appearing on Monon Bell DVDs since 2002 as well as discs created for the last two Alumni Reunion Weekends at DePauw. (at left: Tiger coach Tom Mont being carried off the field by his players after the 1962 Monon Bell Classic)
Plans for the 2008 Monon Bell DVD, which will include the entire, now-completed set, will be announced in the next few days. Discs of the 2001-07 games remain available in limited supplies via an online order form.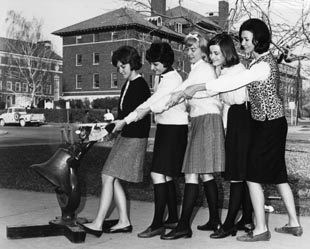 The 115th Monon Bell Classic is set for Saturday, November 15, at Little Giant Stadium in Crawfordsville. DePauw's allotment of tickets will be available beginning Monday, October 27. Details can be found in this recent story.
For the third consecutive year, DePauw and Wabash will partner with HDNet to produce a live telecast of the game in high definition.
This year's contest will be the 77th for possession of the Monon Bell, which was introduced as the winner's prize in 1932. Wabash leads the all-time series 53-52-9, while DePauw leads in games played for the Monon Bell by a 36-34-6 count.
For comprehensive information on one of college football's greatest rivalries, visit the Monon Bell Web page.
Back