Inaugural Weekend Inspires Chorus to Perform 'Songs from the Heartland,' October 12
October 6, 2008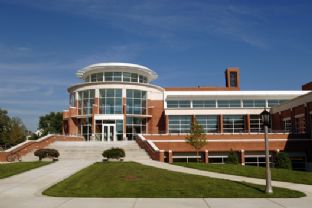 October 6, 2008, Greencastle, Ind. - You're invited to enjoy the first concert of the 2008-09 season by the DePauw University Chorus on Sunday, October 12. The 2 p.m. performance will take place in Kresge Auditorium of the Green Center for the Performing Arts and is free and open to the public.
Titled "Songs from the Heartland: Music for Celebration and Reflection from Transylvania, Bohemia, and Beyond," the program will feature DePauw pianist Nariaki Sugiura and Indiana University organist Larry Smith.
"In the same weekend in which we officially welcome our new president, Brian W. Casey, we thought it might be appropriate to perform some works written for a new leader," explains Gabriel Crouch, director of University Choirs. "We hear the
final words of wisdom uttered by King David to Solomon just before his coronation, along with a setting of Psalm 122 composed for the coronation of King Edward VII in 1902. These works are performed alongside music by some of the great nationalist composers of Eastern Europe -- Bartok, Dvorak and Kodaly -- together with a piece by the modern Hungarian Gyorgy Orban, the dazzlingly virtuosic and rather terrifying Daemon Irrepit Callidus."
For more information, visit the DePauw University School of Music online.
Back