2-Disc 2008 Monon Bell DVD Package Planned; Pre-Order and Save
October 15, 2008
Also: Online DVD Order Form
Also: Monon Bell Ticket Information
October 15, 2008, Greencastle, Ind. - The 115th Monon Bell Classic will be commemorated in a special, 2-DVD collector's edition, which will include this year's game in its entirety along with "Monon Memories" documenting every game in the rivalry's rich history. The limited edition set is available for pre-order for an early-bird special price of $17.50; after the November 15 game the price will be $19.95. A $3 shipping and handling charge will be added to each order. (at left: cover of the 2007 Monon Bell Classic DVD)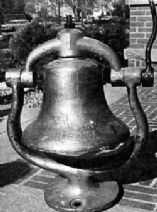 Advance orders for the disc can be placed via this link. Also available are the DVDs of the 2001-07 Monon Bell Classics (supplies of the 2002 and 2007 discs are extremely limited).
"A total of 500 DVD sets will be manufactured, so each school will have 250 to sell," notes Ken Owen '82, executive director of media relations at DePauw, who masters the discs each year. "Given the limited production run, this is almost certain to sell out. The DVD has become a popular way for fans, players and parents to acquire a high-quality video of the game as well as a bevy of bonus features which celebrate the long history DePauw and Wabash share on the gridiron."
The 2008 set will feature the HDNet telecast presented in widescreen enhanced for 16x9 televisions; photo galleries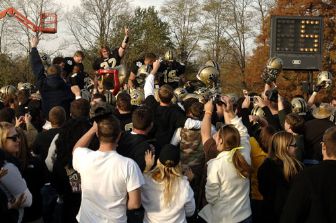 of this year's battle for the Bell and a collection of historic images dating back to the rivalry's early days; "Monon Memories" of every game from 1890 through the 2008 contest; and the music video for the popular Ballad of the Monon Bell.

[Download Video: "Ballad of the Monon Bell - 2007 Version" - 10,419kb]

[Download Audio: "Ballad of the Monon Bell - Stereo" - 2514kb] (at left: DePauw fans celebrate a thrilling victory in the 2007 Classic)
"Wabash has been proud to partner with DePauw on this project since 2002," says Jim Amidon, director of public affairs and marketing at Wabash College. "The DVD is something people thoroughly enjoy and has become a way to archive this historic series for all fans: serious and casual."
Voted Indiana's "best sports rivalry" by visitors to ESPN.com, the Monon Bell Classic is one of the nation's longest and greatest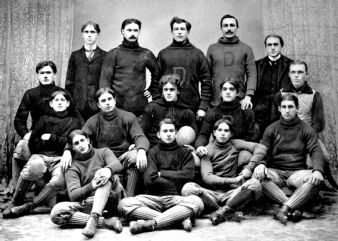 football rivalries. The November 15 game will be the 77th for possession of the Monon Bell, which was introduced as the winner's prize in 1932. Wabash leads the all-time series 53-52-9, while DePauw leads in games played for the Monon Bell by a 36-34-6 count. (at right: 1896 DePauw football team)
Again this year, DePauw and Wabash will work together to stage alumni telecast parties across the nation where graduates and friends of the colleges can gather to catch up with friends and cheer on their favorite team. Learn about plans for your city and/or sign up to host a gathering by clicking here.
Access DePauw's Monon Bell Web page here. A complete roster of "Monon Memories" -- video highlights of past classics -- can be found here.
Back