Prindle Institute's "Prestigious" Environmental Certification Noted in Indianapolis Star
October 6, 2008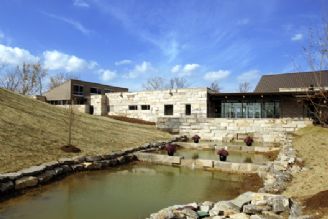 October 6, 2008, Greencastle, Ind. - "Shiel Sexton has been at the forefront of green building efforts in the Indianapolis area for several years," begins a story in today's Indianapolis Star. Lori Darvas notes the environmentally-friendly projects undertaken by the construction company, which is based in Indianapolis, noting, "it won a more prestigious gold LEED certification for the building housing the new Janet Prindle Institute for Ethics at DePauw University."
"A big part of it is doing the right thing," says Kevin Hunt, a partner in Shiel Sexton and an operational vice president for the firm. "This is good for the environment; it's good for the health of the
buildings. I definitely don't see it stopping or slowing down."
The article notes, "Shiel Sexton was founded in 1962, when virtually no one had heard of 'green' construction. But more of the company's projects lately have involved some sort of green building standards, whether it's LEED certification or a few small changes, Hunt said. To keep up with the trend, Shiel Sexton has familiarized its employees with green-building practices. Currently, about 19 of the company's 130 management employees are LEED-accredited, and at least one such employee in involved in nearly every construction project."
Read the complete text at IndyStar.com.
Learn more about the Prindle Institute's LEED New Construction Gold 2.2 rating for energy efficiency and environmental design from the U.S. Green Building Council.
The Bartlett Reflection Center, which is in the final stages of construction near the Prindle Institute within the DePauw Nature Park, has also been designed to obtain LEED certification.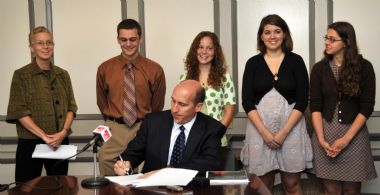 On September 15, DePauw President Brian W. Casey signed the American College & University Presidents Climate Commitment, joining 575 college and university presidents and chancellors across America who are pledging to neutralize the greenhouse gas emissions of their institutions and make environmental awareness a key component of campus life.
On August 21, the National Wildlife Federation honored DePauw University for its efforts to promote sustainability in its report, "Campus Environment 2008: A National Report Card on Sustainability in Higher Education."
Details of DePauw's sustainability efforts can be found by clicking here.
Back