American Organist Praises "Gem of a Recital" by Prof. Carla Edwards
October 7, 2008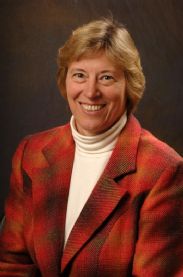 October 7, 2008, Greencastle, Ind. - "The audience ignored the written instructions not to applaud -- how could we not after such an exciting opening?," writes Sarah Hawbecker of a performance by Carla Edwards, professor of organ in the DePauw School of Music and University organist. In the October 2008 edition of American Organist, Hawbecker reviews Professor Edwards' June performance at the National American Guild of Organists' (AGO) convention in Minneapolis.
in calling what she calls "an early morning gem of a recital," Hawbecker opines, "Ms. Edwards displayed quiet virtuosity as well as elegant phrasing and musicality ... This was everything an organ concert should be!"
Edwards received her Bachelor of Music degree with highest distinction from the University of Kansas, a Master of Music degree from the University of Alabama and a Doctor of Music degree in organ performance from Indiana University. Her organ studies have been with Larry Smith, Delores Bruch, James Moeser, Catharine Crozier, Robert Noehren, Michael Schneider and Warren Hutton.
Dr. Edwards has performed extensively in the United States and her performances have been broadcast on the nationally syndicated radio
program Pipedreams. She appeared as a convention artist at the 1993 American Guild of Organist's Regional Convention in Indianapolis, the 1994 national AGO convention in Dallas, the 1997 AGO regional convention in Evansville, Indiana, and the 2001 AGO regional convention in Ft. Wayne, Indiana. In August 1990, Edwards performed 12 concerts on a tour of Finland. She won the region V, AGO competition in 1985 and was a finalist in the 1986 National AGO Competition in Detroit. Edwards was the winner of the 29th annual Fort Wayne National Organ Playing Competition in 1988. She has recently recorded two compact discs for the Calcante Recordings label and is currently represented by Phyllis Stringham Concert Management.
Read more about Professor Edwards in this previous story.
Back