Music and Art Intertwine Wednesday at 'Percussion Sans Frontières'
October 11, 2008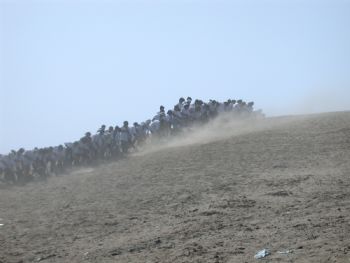 October 11, 2008, Greencastle, Ind. - On Wednesday, October 15, the DePauw Percussion Studio will present a concert, "Percussion Sans Frontières." Presented in conjuction with the art exhibition "Experimental Geography," the musical program will begin at 6:30 p.m. in the gallery of the University's Richard E. Peeler Art Gallery. The performance is presented free of admission charge and is and open to the public.(left: Francis Alys, The Making of Lima, 2002; single-channel video projection, courtesy of David Zwirner Gallery, New York)
"'Experimental Geography' is a traveling exhibition that brings together works in a wide range of mediums created since 2000 by nineteen artists or artist collaboratives from across the United States, as well as from Latin America, Europe and Asia," explains Kaytie Johnson, curator of University galleries. "The territory that these artists are investigating was first defined as 'experimental geography' by
geographer and artist Trevor Paglen in 2002."
She adds, "Visitors can expect the unexpected. This show explores a hybridic space -- the site where contemporary art and science (geography) intersect. The result are works that further validate the state of contemporary artistic practice and production as an expanded, highly multidisciplinary field where anything is possible."
Learn more in this previous story.
The Percussion at Peeler collaboration has become a yearly event at DePauw. "This is a performance that we really
look forward to each year," notes Amy Lynn Barber (pictured at left), professor of percussion in the DePauw School of Music. "It's always a lot of fun, and an interesting challenge to program works that relate to the art in the exhibition. This year, we'll be doing some 'musical geography,' sampling traditional musical styles from central America and Mexico, the Balkans, Brazil, and Africa, as well as exploring the borders of what is traditionally regarded as music, just as the exhibition explores these distinctions. We won't be using any power tools or kitchen appliances this year, but of course there will be the obligatory John Cage piece."
The concert will include traditional music of different countries arranged for percussion, as well as works by Steve Reich, David Friedman, Niel DePonte, Igor Lesnik and John Cage, plus some improvisational music.
Learn more at the School of Music's Web page.
Back