Stock Market Shakeup Offers Opportunities, According to James B. Stewart '73
October 8, 2008
October 8, 2008, Greencastle, Ind. - "No two financial crises are exactly the same," according to James B. Stewart, the Pulitzer Prize-winning journalist and author and 1973 graduate of DePauw University. "There are times to be an observer, watching from the sidelines. And there are times to act."
In today's Wall Street Journal, Stewart describes how he began buying shares eight days ago and why, despite the tumult that has shaken the financial markets, he sees the slide in financial indexes as an opportunity. He asks, "So why am I buying when the market is plunging? When we're in the worst financial crisis of my lifetime? The answer is simple: That's when stocks are cheap."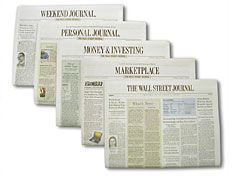 The author of Blood Sport offers, "The time to sell isn't now, with the Dow industrials hitting five-year lows. It was last year, with the industrials hitting records ... There's no point in bemoaning any failure to act when times were good. The important thing is to take advantage of opportunities now. The last two buying opportunities came quite close together in January, when the market entered bear territory. This past week marks the third 10% decline without an intervening 25% rally, the first time that has happened since the bear market that began in 2000."
Stewart's column concludes, "When people I know are pulling cash from bank accounts and putting it somewhere they consider 'safe,' like a cookie jar, I'm saying I still believe in the system. I credit my late father for this approach, who grew up in the Depression and never lost faith in the U.S. economy or stock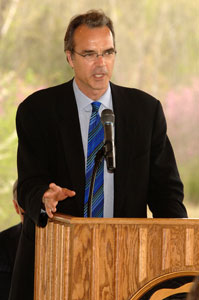 market. To those who accuse me of soft-hearted idealism, I can say only that it has paid off over two generations."
Access the complete essay, "Now Is the Time to Think Long Term and Buy Stocks," at the Journal's Web site.
A member of DePauw's Board of Trustees and former chair of the body, James B. Stewart received a Pulitzer Prize for Wall Street Journal articles on the 1987 stock market crash and the insider-trading scandal. Now editor-at-large of SmartMoney magazine, Stewart's other books include DisneyWar: The Battle for the Magic Kingdom; as well as Den of Thieves; Blind Eye; Follow the Story and Heart of a Soldier: A Story of Love, Heroism, and September 11th. The San Francisco Examiner calls Stewart, who served as editor of The DePauw while a student in Greencastle, "the journalist every journalist would like to be."
Jim Stewart delivered his alma mater's commencement address in 1989, embedded below.
He received DePauw's Young Alumni Award in 1988, an Alumni Citation in 1988, and an honorary Doctor of Journalism degree in 1989. Learn more in this recent story.
Back