Miss Indiana 1958, Anita (Hursh) Cast '61, Recalls Her Community's "Incredible" Support
October 9, 2008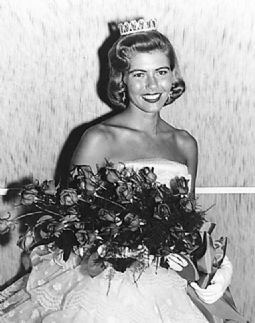 October 9, 2008, Greencastle, Ind. - "Fifty years ago, more than 8,000 Goshen residents gathered on the courthouse lawn to give one of their own a warm send-off to the Miss America contest in Atlantic City," begins a story published in today's Goshen News. "The support of the town is what really stands out in Anita (Hursh) Cast's memory from her days as the reigning Miss Indiana," writes Monica Joseph in an article that makes several references to Cast's DePauw experience. She graduated from the University in 1961.
In July 1958 -- the summer following her freshman year at DePauw -- Anita Hursh was crowned Miss Indiana. "It was incredible, the support from Goshen," she recalls today.
Joseph reports, "The then-Miss Hursh had a reception thrown in her honor on the courthouse lawn that drew more than 8,000 people, and the town organized a parade in her honor." Citizens also raised $6,435 to
send the Goshen High School band to Atlantic City to attend the pageant.
"While Cast, who played the piano for her talent, didn't win the title or place in the top four, she did win a preliminary swimsuit competition," the text points out. "She was also predicted to win by a poll taken of members of the press. The winner of the 1958 title was Miss Alabama Mary Ann Mobley."
The feature continues, "Cast said she appreciates the Miss America program for remaining about scholarships. Cast said the scholarship money from the state, local and national programs was very helpful while she was in school. She graduated from DePauw University in 1961 with a double major in psychology and sociology and a minor in music. Music remains a great love of Cast's, as she still enjoys playing the piano and is involved with the Fort Wayne Philharmonic Orchestra. She met her husband, Bill, on a blind date while she was at DePauw," adds the paper.
You can access the article in its entirety at the News' Web site.
Back