Annie Corley '82 Brings "A Touch of Naturalness" to The Lucky Ones
October 10, 2008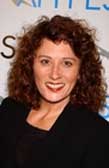 October 10, 2008, Greencastle, Ind. - "Very late in the proceedings Annie Corley turns up as the mother of a (soldier killed in action in Iraq), bringing with her a touch of naturalness and, by way of The Bridges of Madison County, a flood of positive associations," notes a San Diego Reader review of The Lucky Ones. Corley, a 1982 graduate of DePauw University, is part of a cast that includes Tim Robbins, Rachel McAdams and Michael Peña. The movie opened September 26.
Access the full review at the weekly newspaper's Web site.
A communication major who was active in student

theatrical productions while at DePauw, Annie Corley performed in three films that were nominated for 2004 Academy Awards: 21 Grams, Seabiscuit and Monster. She portrayed the daughter of Meryl Streep's character in The Bridges of Madison County. Corley has also had roles in The Cider House Rules, Stick It, Here on Earth, Juwanna Mann and Free Willy 3: The Rescue. On television, Corley has had guest roles on CSI: Crime Scene Investigation, The Practice, NYPD Blue, The West Wing, Crossing Jordan and Murder, She Wrote.
Learn more in this recent story.
Back