Indianapolis Star Previews Today's Inauguration of President Brian W. Casey
October 10, 2008
Also: Inaugural Web Page
Also: See the Webcast of the Installation Ceremony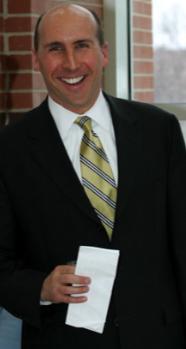 October 10, 2008, Greencastle, Ind. - "DePauw University will inaugurate its 19th president today, and Brian Casey plans to use the moment to challenge his 171-year-old liberal arts college to remain true to its calling," begins a story in this morning's Indianapolis Star. "At the small, 2,400-student campus about an hour west of Indianapolis, a weeklong celebration culminates today in the official inauguration, followed by fireworks and a sold-out concert by the alternative rock band Third Eye Blind," reports Dan McFeely.
Dr. Casey tells the Star, "There is enormous pressure in the world to focus on the pre-professional curriculums and on training for careers. But we do something different. We don't train accountants, here. We train thinkers." He adds with a chuckle, "Not that accountants don't think."
The article includes comments from DePauw senior Meghan McGonigle, who, as McFeely notes, "heard of (Casey's) Sunday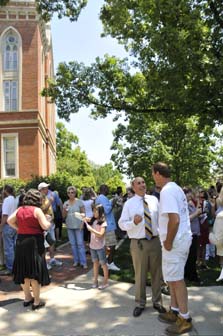 night dinners, as well as how he drops in on fraternities and sororities. The print edition carries two photographs of the new president.
Access the complete story at IndyStar.com. Today's historic day at DePauw is also the subject of an Associated Press report.
Today's installation ceremony begins at 4 p.m. in Holton Memorial Quadrangle. The event will be webcast and can be seen live via this link.
President Casey, who took office on July 1, addressed DePauw's incoming students at the August 23 opening convocation and led them ito the event in a new procession. His appointment was announced in February after a nine-month international search for the University's first new leader in 22 years. Casey came to Greencastle from Harvard University, where he was associate dean for academic affairs in the faculty of arts and sciences. He succeeds Robert G. Bottoms, who led DePauw since 1986 and, as president emeritus, serves as director of the Janet Prindle Institute for Ethics.
Back