Tigers Score 24 Straight and Claim 31-21 Old Gold Win
October 11, 2008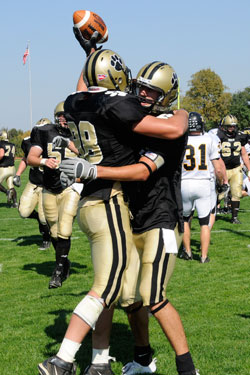 October 11, 2008, Greencastle, Ind. - In a tale of two halves DePauw rallied from a 14-point halftime deficit with 24 straight points over the final 22 minutes and took a 31-21 victory over visiting Birmingham-Southern.
DePauw improved to 4-1 with the win, while Birmingham-Southern dropped to 1-4.
The Tigers committed four first-half turnovers and surrendered 315 yards of offense in the opening 30 minutes, but allowed the Panthers just two first downs and 39 yards over the final 30, while scoring on four straight possessions.
DePauw took the opening kickoff 83 yards in 11 plays and Spud Dick tossed a 2-yard scoring pass to Nick Etzcorn (pictured), but the Panthers' Eric Nordgren hauled in an 80-yard pass from running back David Langston on the first play of the ensuing series to tie the game at 7-7.
A pair of Walter Arrington touchdowns, one receiving and one rushing, pushed Birmingham-Southern's lead to 21-7 at the half.
DePauw stopped the Panthers on the first series of the second half and Bryan Mulligan appeared to take the punt return all the way back but the Tigers were whistled for an illegal block inside their own five.
The Tigers then embarked on a 12-play, 97-yard drive capped by Brayden Dahlstrom's 4-yard run. Jordan Havercamp's point-after was off the mark and Birmingham-Southern still held a 21-13 lead with 6:50 left in the third.
DePauw forced the Panthers to punt on the next drive and again the Tigers were called for a penalty inside their own 20 after Mulligan returned the punt to the Birmingham-Southern 44.
Beginning at their own 9, the Tigers proceeded to drive to the Panthers' 2 before being faced with a fourth down.
Following a timeout, Havercamp was called on for the short field goal attempt, but holder Michael Engle took the snap and flip it over his head to Havercamp who scampered to the right corner of the end zone for the score. Dick teamed with Mulligan for the two-point conversion and the Tigers evened the contest at 21-21 with 14:10 left.
DePauw's defense came up big again as Ryan Woodard and Kyle Sherer sacked Joe Thigpen on third down at the Panthers' 11. Following a punt, the Tigers took over on the Birmingham-Southern 49 and needed just three plays before Dick connected with Alex Koors for a 38-yard score with 11:55 left to make it 28-21.
The Panthers were called for penalties on back-to-back plays on the next drive forcing a third-and-30 situation. Thigpen's pass to Luke Chapman covered 27 yards, but a delay of game penalty moved the ball back to the DePauw 41.
Birmingham-Southern punted and pinned the Tigers at their own 13, however a 16-play, 59-yard drive ended with Havercamp's 45-yard field goal with 2:02 left which pushed the lead to 31-21. The Tigers recovered a fumble on the ensuing kickoff and were able to run out the clock for the victory.
Dick completed a career-high 37-of-45 passes for a career-best 395 yards and added two touchdown passes. The junior signal caller was 11-for-11 for 161 yards in the third quarter alone. Mulligan caught 11 passes for 77 yards, while Dahlstrom hauled in eight for 77 and Koors added seven for 104 yards. Mitchell Willsey rushed for 50 yards in 20 carries in his first collegiate start.
Langston totaled 65 rushing yards on just four carries, while Arrington finished with 62 on 13 tries. Langston caught four passes for 47 yards. Chadler Bares completed 9-of-19 for 132 yards and one score.
Tarren Collins and Alex Fitch each totaled five tackles, while Fitch blocked a late, first half field goal. Zac Napier led the Panthers with 11 tackles followed by Brad Stockdale with 10.
DePauw outgained Birmingham-Southern 475-354, totaled 27 first downs and possess the ball for 39:37 including over 23 minutes in the second half of the win.
The Tigers travel to San Antonio on Saturday, October 18, where they face defending Southern Collegiate Athletic Conference co-champion Trinity at 1:30 p.m. CDT.
NOTES: Spud Dick's 37 pass completions equal the third most in a DePauw game, while his 395 passing yards were seventh and his 401 total offense yards were third ... Bryam Mulligan's 11 catches marked the second double-digit reception game of his career and equaled the eighth-most in a DePauw game ... Dick now ranks third in DePauw history in passing yards (4,949) and completions (399) and sixth in attempts (654) ... he is also fourth in school history with 4,949 career total offense yards ... today's win was DePauw's fifth straight at Blackstock victory ... it also marked the Tigers' fifth straight Old Gold Day victory and 25th in the last 29 years.
Back