Pro Golfer Says He Was "Tattooed" by Former Tiger Captain Dan Quayle '69
October 12, 2008
October 12, 2008, Greencastle, Ind. - "I've been tattooed by a couple of celebrities," professional golfer Joey Sindelar tells PGA Tour.com in a piece which asks, "Who's the most talented celebrity golfer?" Sindelar says, "I'd had quite a long vacation -- I think I had had an injury -- the year that Dan Quayle went out of office. I played with him in the pro-am in the then Kemper Open. And, if I remember, he was playing the whites and I was playing the blues but he tattooed me. He gets my respect."
Access the item -- which also cites Tony Romo, Vince Gill, Bob Hope and others -- by clicking here.
America's 44th vice president and 1969 graduate of DePauw University, Dan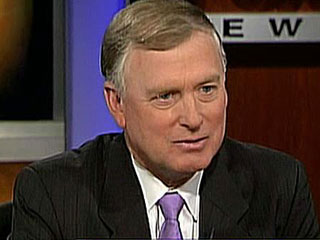 Quayle is chairman of global investments for Cerberus Capital Management.
A member of DePauw's Athletic Hall of Fame, Quayle captained the Tiger golf team and was among the former players of Ted Katula who honored the retired coach at the November 12, 2005 announcement of a new endowed chair, the Theodore M. Katula Director of Athletics.
Learn more about Quayle in this recent story.
Back