Debate Team Wins Tournament at Northern Illinois U
October 14, 2008
October 14, 2008, Greencastle, Ind. - DePauw University's debate team emerged as the winner of the M. Jack Parker Invitational Tournament, which took place over the weekend at Northern Illinois University. DePauw's Avery Archer and Christine Walker defeated Wheaton College in the final round on a 3-0 decision on the resolution: "On balance, the free market is preferable to government intervention." DePauw spoke in support of the resolution.
DePauw debaters defeated teams from Loyola, Patrick Henry, Northern Illinois, Wheaton, and Wabash from a field of 26 teams representing 10 schools. Because of seeding, Archer and Walker faced another team from DePauw, Keelin Kelly and Michael Lutz, in the semifinal round en route to their final round showdown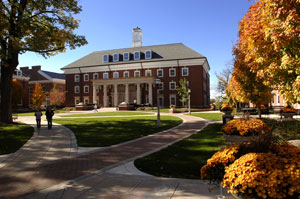 with Wheaton.
Overall, three teams from DePauw finished in the top 10. Kelly and Lutz placed third, while Aaron Dicker and Kevin Milne took ninth.
The Tigers' next engagement will be at home on October 28 at 4 p.m. when they'll host the British National Debate Team. The public debate will take place in the courtyard of the Green Center for the Performing Arts. Nikki Miyasato and Christine Walker will face debaters from Edinburgh University and University College Cork on the resolution: "Pornography is empowering to women." DePauw will speak in opposition. The event is free and open to the public.
For information, visit the debate team online or contact Geoff Klinger '88, associate professor of communication and theatre and director of forensics.
Back