Rob Apatoff '80 Appointed President of FTD Group
October 14, 2008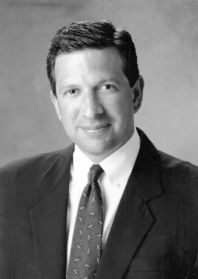 October 14, 2008, Greencastle, Ind. - Robert S. Apatoff, a 1980 graduate of DePauw University, has been appointed president of FTD Group, a subsidiary of United Online, Inc. Apatoff will assume his new duties November 3 and will report directly to Mark R. Goldston, chairman, president and CEO of United Online.
Apatoff most recently served as managing director with Patriarch Partners, LLC, a private equity investment firm, where he was responsible for the management and development of Patriarch's consumer goods companies. He was previously president and chief executive officer of Rand McNally & Company. Apatoff's resume also includes
serving as senior vice president and chief marketing officer at Allstate Corporation, and in senior management and marketing roles at Aetna, Inc., L.A. Gear, Inc., Reebok International, Ltd. and Anheuser Busch, Inc. At the latter, Apatoff was the visionary behind the successful "Bud Bowl" and Spuds Mackenzie campaigns.
"This will be the third time that Rob Apatoff and I have teamed up together in the past 20 years," notes Goldston. "We have had the privilege of helping to build some truly outstanding brands, and I am thrilled to have him join us as president of FTD. In addition to being a great leader and marketer, Rob is a true retail strategist. His vision and talent should be a welcome presence to the thousands of FTD member florists who are the lifeblood of the FTD retail network."
Apatoff declares, "I am looking forward to once again working with Mark Goldston to help put a fresh and innovative stamp on the FTD and Interflora brands. I have great respect and admiration for what Mark and his team have built at United Online
over the past 10 years, which is one of the true business success stories. FTD and Interflora have a rich history and are great brands for us to cultivate and expand. As a former member of the FTD board of directors for over four years, I am fortunate to start this new opportunity with a unique understanding and perspective relating to the FTD business. Considering my experience working with Mark in the past, I strongly believe that we can have a major impact upon the FTD business going forward."
Today's announcement notes Apatoff's DePauw degree in communication and that he serves on the University's Board of Visitors.
Read more at MarketWatch.com.
Rob Apatoff and Judson Green '74 of NAVTEQ Corporation were featured in a June 2007 story in the Chicago Tribune.
Back