Birch Bayh's Advice for Obama: Name Lee Hamilton '52 Secretary of State
October 15, 2008
October 15, 2008, Greencastle, Ind. - At last night's Jefferson-Jackson Dinner in Bartholomew County, Indiana, former U.S. Senator Birch Bayh "shared a piece of advice for Barack Obama, should he win the presidency ... naming Lee Hamilton as Secretary of State," reports WCSI radio. Meanwhile, today's edition of Ohio's Newark Advocate notes, "A candidate looking for a crash course on foreign policy before today's final presidential debate would have been well served to listen to Lee Hamilton at Denison University on Tuesday." Hamilton, who served 34 years in the U.S. House of Representatives and co-chaired the 9/11 Commission and Iraq Study Group, is a 1952 graduate of DePauw University.
At Denison, the veteran statesman repeated a theme from last month's DePauw Discourse. Abbey Stirgwolt writes, "The fundamental issue, Hamilton emphasized, is for the next president to determine what the role of America is in the world -- and to work alongside other nations to determine a course of action."
Hamilton told the Ohio audience, "I guarantee you this: We cannot solve a single problem ourselves." Of the next president, the Democrat added, "As soon as they finish that walk down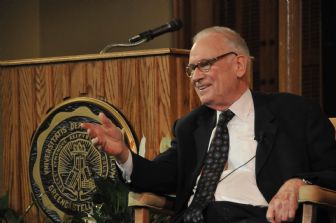 Pennsylvania Avenue and into the Oval Office, they are going to be confronted with an array of very dangerous and profound challenges for the United States."
Read the complete story at the newspaper's Web site.
Newsweek has called Lee Hamilton "Mr. Integrity," while the New York Times' David Brooks opined, "The country is hungering for leaders like him: open-minded, unassuming centrists who are interested in government more than politics." Hamilton was named one of "America's Best Leaders" for 2007 by U.S. News & World Report.
Hamilton recently authored a column outlining the "ten commandments of citizenship." Access it here.
Back