PR Week Examination of Perceived Media Bias Quotes Prof. Bob Steele '69
October 16, 2008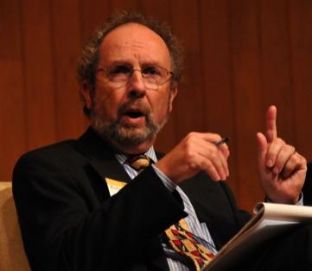 October 16, 2008, Greencastle, Ind. - "Journalism taking place on more platforms these days heightens the role and impact [of] journalists," Bob Steele, Eugene S. Pulliam Distinguished Visiting Professor of Journalism at DePauw University, tells PR Week. Steele is quoted in a story which examines claims of media bias in coverage of the presidential campaigns. "It's part of the discussion," he adds. "There's no doubt it's woven into the fabric. And that's not inappropriate."
Jaimy Lee writes, "Criticism of the media, though standard fare for news outlets during this election, has been part of campaign messaging for the past three decades, says Bob Steele, [who also serves as] senior faculty member for ethics at the Poynter Institute."
The piece begins by noting, "The debate over the media's fairness
during presidential elections is a consistent topic for both pundits and journalists every four years. However, charges of media bias may be heightened this year partially due to the increase in the sheer quantity of news outlets and new technologies bringing information directly to voters."
Read the full story -- which appears in the October 20 issue -- at the publication's Web site.
A 1969 graduate of DePauw, Bob Steele was quoted in a nationally distributed September 29 Associated Press article, which examined the placement of campaign commercials within network television newscasts. Details can be found here.
Back