Book by Barbara Kingsolver '77 a Finalist in Library of Virginia Literary Awards
October 20, 2008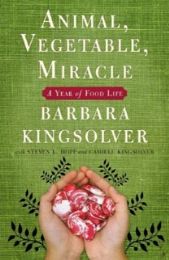 October 20, 2008, Greencastle, Ind. - Animal, Vegetable, Miracle: A Year of Food Life by Barbara Kingsolver, a 1977 graduate of DePauw University, was a nonfiction finalist in the 11th Annual Library of Virginia Literary Awards. Presented Friday, the awards honor Virginia authors or, in the case of nonfiction, works on a Virginia subject.
Animal, Vegetable, Miracle was co-authored by Kingsolver's husband, Steven L. Hopp, and their daughter, Camille Kingsolver. The book chronicles what happened after the family pledged for a year to eat only food produced on its farm. It was listed among the ten best nonfiction
books of 2007 by TIME magazine and received an award from the James Beard Foundation as well as a gold Nautilus Book Award.
Barbara Kingsolver's other best-selling works include The Poisonwood Bible, The Bean Trees, Animal Dreams and Small Wonder.
Learn more about the Library of Virginia Literary Awards by clicking here.
"I did not study writing in college, but I'm a writer because I got to go to college," Kingsolver has stated. "I wanted to go somewhere far away and exotic, so I went to DePauw University in Indiana. All the scales fell from my eyes; it was wonderful."
Barbara Kingsolver delivered the commencement address at her alma mater in 1994. Learn more about her in this recent story.
Back