7th Annual ArtsFest Will Explore 'Art & Borders', October 30 - November 9
October 21, 2008
October 21, 2008, Greencastle, Ind. - National, cultural, intellectual and artistic borders will be considered, contemplated and crossed during DePauw University's 7th annual gathering of writers, artists, thinkers and performers, ArtsFest 2008: Art & Borders. The festival runs from Thursday, October 30 through Sunday, November 9, and showcases the creative and performing arts talents of members of the DePauw community and visiting artists.
Seldom has the timing of an ArtsFest theme been more appropriate than it is this year. As the world is faced with tackling such border-diffusing issues as immigration, global warming, and financial failure, ArtsFest 2008 will expand upon and challenge our notions of borders through a variety of artistic mediums. The 11-day festival includes art exhibitions, theatre performances, concerts, lectures, film screenings, creative writing readings, and more.
Departments, programs, and organizations contributing to and collaborating in the festival include the DePauw Galleries and Museums, Film Studies Speaker and Film Series, the DePauw School of Music, the Kelly Writers Series, DePauw Theatre, the DePauw Performing Arts Series,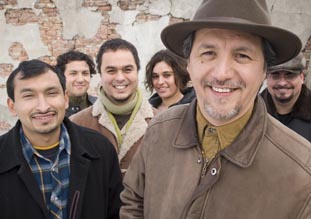 Multicultural and Community Life, the DePauw Greek community, and numerous student organizations including the Student Arts Council. All events are free and open to the public with the exception of the DePauw Theatre production.
ArtsFest 2008: Art & Borders will kick off Thursday, October 30 with the installation of "Cross This Border: The Fence Project." For this campus-wide art project, a chain-link fence will be erected throughout East College as a canvas for voices of the DePauw and Greencastle communities. Opening day festivities also includes a panel discussion of art and borders at 4:15 p.m. with DePauw professors and represented artists, a concert at 7:30 p.m. featuring Chicago's premier Mexican folk music group, Sones de México (pictured above left), and a 9 p.m. performance of the popular bi-annual theatre event, Playwrights' Festival. Additional performances of the collection of original 10-minute plays written, directed and performed by students are Saturday and Sunday, November 1 and 2.
If you like music, you'll not be disappointed. Come in costume Halloween evening at 8 p.m. to see the classic silent film, Phantom of the Opera, complete with improvised underscoring by organist John Schwandt. Sundays on campus during the festival will resonate with theme-specific concerts offered by the DePauw Symphony Orchestra and the University Jazz Ensemble on November 2 and November 9, respectively.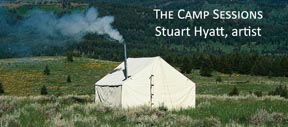 Not to be outdone, the visual arts are offering an array of exhibitions and events. Indianapolis-based artist Stuart Hyatt will oversee creative exploration in "The Camp Sessions." Stop by the border field tent on the Green Center lawn any day between November 3 and 7 to participate. Remember the decorated campus bikes from last year's ArtsFest? Several are being outfitted for ArtsFest 2008 with cameras. Ride one, snap some pictures, and contribute to Photocycles, a collective art project on our physical and visual borders.
Have you seen the double-sided billboard on U.S. 40 just west of highway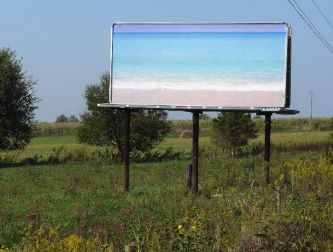 231 with idyllic scenes of vacation? These are the work of Cuban-American artist Felipe Dulzaides, whose exhibition "Nothing Happens Twice" will be on view throughout the festival at the Richard E. Peeler Art Gallery. Also at the gallery is "Experimental Geography," an exploration of the intersection of geographical study and artistic expression. Patrons are encouraged to add to the exhibition with their visions of Putnam County.
Fans of theatre in all its forms will not be disappointed. Border crossing is definitely the theme of the "Laugh in Peace Tour" (pictured below left) on Saturday, November 1, a comedy routine touring nationally featuring one Jew, one Muslim, and one Evangelical Christian. DePauw Theatre will open Natural Selection on Friday, November 3, a dark comedy about the end of the world, and the production's visiting guest actor, Cochise Anderson, will perform The Kemosabe Therapy,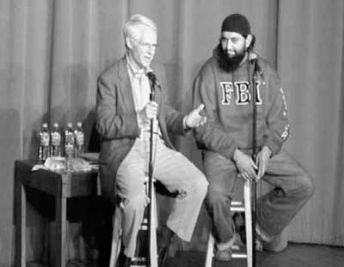 a one-man show of music, dance and poetry providing a Native American perspective on our modern world. Finally, the Student Arts Council is sponsoring a 24-hour stage on the East College lawn beginning at 10 a.m. on Friday, November 7. All are welcome to participate with readings, performances, talks, or other performance art activity.
There's more. Several organizations are collaborating to present the Human Race Machine, a creation of art technology that gives viewers the opportunity to envision themselves as a different race. The machine will be available to all daily from 10 a.m. to 8 p.m. in the Memorial Student Union. Film Studies, now offering its annual Film and Speaker Series at Ashley Square Cinemas, will present Persepolis on Monday, November 3, an award-winning story about a young Iranian girl struggling to grow up in post-revolution Iran. Wednesday, November 5 will be highlighted by
two participatory events offered by visiting professor Kimiko Gunji, a Japanese Tea Ceremony and a Kimono demonstration.
The work of writers and poets will be the focus of no fewer than four events. The Kelly Writers Series will offer a reading by PEN/Hemingway Award-winning writer Dagoberto Gilb (seen at right) on Thursday, November 6. Visiting Mexican poet Gaëlle Le Calvez will headline "DoubleSpeak," an event at which you'll hear a reading twice, first in its original language and again in translation. Back by popular demand will be two evenings of readings of the work of creative writing faculty and students on Wednesday, November 5, and Friday, November 7, respectively. The Roy O. West library will again participate in the festival with a comprehensive display of materials on the subject of Art & Borders.
Finally, while no single event can be said to be "the" defining event of the festival, a certain highlight will be the all-community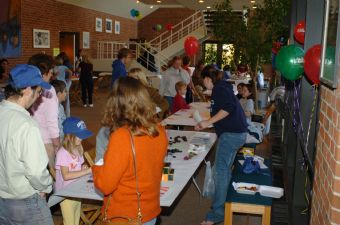 party on the first Tuesday of November to watch the local and national election returns. The Green Center's Theta Garden (located off Locust Street) will be decked out with a giant screen television, food, and musical and theatrical entertainment from 8 to 11 p.m.
DePauw's ArtsFest would not be complete without its annual popular closing event, Art Attack, a day of free art performances, workshops and hands-on art activities for children. If you're a child or a kid at heart, come to the Green Center for the Performing Arts on Sunday, November 9, from 12:30 to 4 p.m. to sample the many and varied activities being offered by DePauw's Greek and student organizations.
A detailed schedule of all ArtsFest 2008: Art & Borders visual, performing, and creative art activity can be found here. For additional information contact Gigi Fenlon at gfenlon@depauw.edu or (765) 658-4485.
Back