America Ignores Asia "At Our Own Peril," Declares Lee Hamilton '52
October 22, 2008
October 22, 2008, Greencastle, Ind. - "Only when there are crises -- North Korea's nuclear test, the Saffron Revolution in Myanmar (Burma), or civil unrest in Tibet -- does Asia grab headlines. This will have to change," writes Lee Hamilton in the Indianapolis Star. The veteran statesman and 1952 graduate of DePauw University asserts, "Though the U.S. remains the pre-eminent military power, America's relative power has declined, while the power of China and other Asian nations has grown. The painful economic adjustments we face reflect the shift of the center of global affairs from the Atlantic to the Pacific."
Hamilton, who served 34 years in the U.S. House of Representatives and co-chaired the Iraq Study Group and 9/11 Commission, declares, "Managing the U.S.-China relationship is the most important and most challenging task in Asia ... Despite the wars in Iraq and Afghanistan, we cannot continue to shortchange Asia when it comes to diplomacy. What should the U.S. do? Watch our rhetoric. We should not define Asian countries as threats or competitors for geopolitical supremacy."
The Democrat outlines a number of suggestions to bolster America's relations with Asian nations, and concludes, "In 2001, many analysts said we were entering the 'Asian Century.' That remains to be seen, but we ignore the trend lines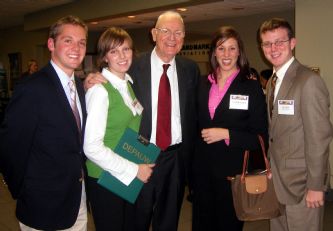 at our own peril." (at right: Hamilton with DePauw student journalists)
You'll find the complete essay, "Keep Asia high on foreign policy list," at IndyStar.com.
Lee Hamilton is director of the Woodrow Wilson International Center for Scholars in Washington, D.C. Last week, former U.S. Senator Birch Bayh suggested that -- should he win the presidency -- Barack Obama name Hamilton to serve as his secretary of state.
Hamilton returned to the DePauw campus last month to discuss "America's Role in the World" with FOX News Chief White House Correspondent Bret Baier '92. A summary of that event -- including video and audio clips -- can be accessed here.
Back