Library 'Ghost Story' Recounted in Newspaper
October 22, 2008
October 22, 2008, Greencastle, Ind. - "Every librarian's dream is to have a dedicated assistant who works whenever necessary," writes Maribeth Ward in today's Banner-Graphic. "DePauw University has that perfect librarian -- a ghost," she notes in a pre-Halloween story detailing Greencastle's reputed haunts.
"The first report of a ghostly sighting came in the Old Whitcomb Library in the early 1900s. Governor James Whitcomb [pictured at top] left his rare book collection to the school with the stipulation they were never to be taken from the library building," Ward reports, recounting a tale included in the book, Haunted Hoosier Trails: A Guide to Famous Folklore Spooky Sites, by Wanda Lou Willis. "A student, however, found Whitcomb's favorite book, The Poems of Ossian, which had been given to the governor as a young boy, so interesting that he took it out of the building intending to read it that night and return it the next day. If was after midnight when he finished the book and turned the lights out.
"He woke with the sense he was not alone. When his eyes became adjusted to the darkness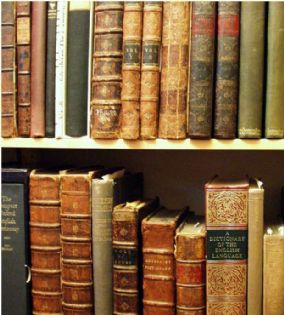 he saw a spectral finger pointing accusingly. And then heard, 'Who stole Ossian?' the bony hand reached toward the boy, who swore he felt a finger touch his cheek. The boy returned the book first thing in the morning telling the librarian he'd been visited by the ghost of Governor Whitcomb and promising he'd never take another restricted book out of the library."
Ward reports, "Today, the books are housed in a secure area where only librarians can retrieve the rare volumes."
The complete article, which also describes the alleged haunting of a local house, can be found at the newspaper's Web site.
The Whitcomb "ghost story" was also recounted in this 2006 newspaper story.
Back