Halloween Night Brings Classic Phantom of the Opera to Campus
October 25, 2008
October 25, 2008, Greencastle, Ind. - Ghouls and goblins of all ages are invited to enjoy a Halloween night treat, a showing of the 1925 film classic The Phantom of the Opera with organist John Schwandt performing an improvised score. The free program, which is suitable for all ages, begins at 8 p.m. Friday night in the Green Center for the Performing Arts' Kresge Auditorium.
It is presented by DePauw's Performing Arts Series and the film studies program as part of ArtsFest 2008. The audience is encouraged to come in costume.
Starring Lon Chaney Sr. and directed by Rupert Julian, Phantom continues to fascinate and horrify audiences 83 years after it was initially released. Popularly known as "the man of a thousand faces," Chaney performs much of the Phantom role wearing a mask and creates a masterful character portrayal through physical gesture. In many ways Chaney's work in The Phantom of the Opera exemplifies grand silent film acting.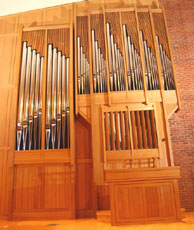 Dr. Schwandt's score will be based on motifs drawn from Toccata & Fugue in D Minor, attributed to J.S. Bach. Schwandt is well known throughout the United States not only as a performer and accompanist of silent films, but also as a scholar and educator. He is currently an associate professor of organ at the University of Oklahoma, where he is also director of the American Organ Institute.
The third "star" of this special Halloween performance will be the magnificent pipe organ upon which Dr. Schwandt will improvise his score. Pipe organs have been a favorite instrument utilized by soundtrack composers for Gothic horror films, chosen for their breadth of orchestral sounds and capabilities for grand dramatic effects. DePauw's J. Stanford Smith '36 Concert Organ was designed and built by Wolff & Associates of Laval, Quebec, and has over forty speaking stops and nearly three thousand individual pipes. It was installed in 2002 and dedicated in an April 18, 2003 concert.
For further information contact Ron Dye at (765) 658-4689.
Back