DePauw Tops Colorado College in Overtime, 37-34
October 25, 2008
October 25, 2008, Greencastle, Ind. - A 20-yard field goal by Jordan Havercamp in overtime gave DePauw University a 37-34 victory over Colorado College at Blackstock Stadium this afternoon. The visitors had a chance to tie the game, but Tyler Brickell's 3-point attempt from 41 yards out was no good. The two teams combined for 932 yards of total offense, with DePauw accumulating 523 of them.
DePauw improves to 5-2 on the season and 3-2 in SCAC action, while Colorado College falls to 0-6 overall and 0-5 in conference play. It was the second-ever football meeting between the two schools. Last year, it took two overtimes for DePauw to prevail, 41-40.
DePauw led 21-14 at halftime, but needed a 65-yard drive to tie the game with 13.1 seconds left, when junior quarterback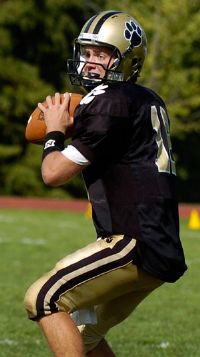 Spud Dick found Alex Koors in the end zone on a 4th and goal play from the 5 yard line. Dick completed 32-of-44 passes for a career-high 404 yards and three touchdowns along with two interceptions. Koors was on the receiving end of two of the scoring throws, and had 8 receptions for 82 yards on the afternoon. Bryan Mulligan caught 10 passes for 115 yards, while Chris Gasbarra grabbed 5 balls for 57 yards and a touchdown. Derrick Karazsia rushed for 95 yards on 21 carries and one touchdown.
Dick's performance moves him to second all-time among DePauw quarterbacks (behind Jeff Voris, 1986-89) for career passing yards and completions. His seventh career 300+ yard passing game (and fourth this season) ties him for the all-time lead with Voris and Jason Lee (1999-01).
DePauw travels to Sherman, Texas, next Saturday for an SCAC game at Austin College. The play-by-play can be heard live via student radio station WGRE (91.5 FM or online via this link).
For comprehensive coverage of today's game, visit the football team's Web page. Summaries can also be found in the Rocky Mountain News and Denver Post.
Back