Newsweek Offers Excerpt of New Book by Vernon Jordan '57
October 27, 2008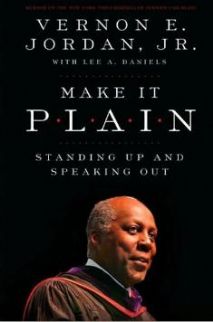 October 27, 2008, Greencastle, Ind. - Make It Plain: Standing Up and Speaking Out, a collection of speeches by Vernon E. Jordan Jr., arrives in bookstores on November 3. The new issue of Newsweek magazine offers an excerpt of an address in which Jordan -- a 1957 graduate of DePauw University -- shines a light on how "the men and women obligated to 'disturb the unjust peace' gave us the candidacies of Barack Obama, Hillary Clinton and John McCain."
Jordan begins, "As one born in 1935 in the deep south who saw my father and oldest brother go off to Europe and Asia to fight in World War II and return home to Georgia unable by law to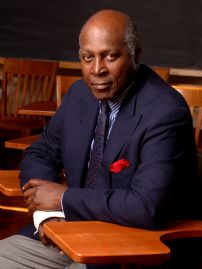 vote in the white primary, I stand here today -- astonished, smashed, unbelieving, incredulous -- that America has come to this place and time. It is truly springtime in America. But how did we get to this historic moment? Who planted the seeds that have brought forth this new fruit in our democracy? Lest we forget that this event was brought about in part by the actions of men and women who at particular moments in time followed a deeply felt obligation to disturb the unjust peace and thereby advance the cause of justice."
Read the complete text, "The Jordan Gospel," at Newsweek's Web site or in the magazine's November 3 issue.
Jordan is a senior managing director of Lazard Frères & Co. LLC, the former president of the National Urban League, advised Presidents Clinton and Carter, and served on the Iraq Study Group. An advisory member of DePauw's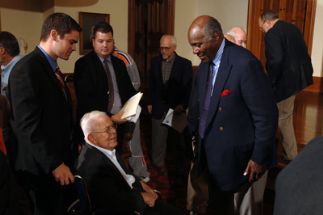 Board of Trustees, Jordan served as co-producer of the recent Broadway bioplay, Thurgood. (at left: Jordan greets Robert H. Farber '35, vice president emeritus and professor emeritus of education at DePauw)
Vernon Jordan has twice served as DePauw's commencement speaker, and marked the release of his memoir, Vernon Can Read!, with a speech on October 27, 2001 in which he spoke of his days as a student in Greencastle. Another lecture at DePauw, from June 4, 1982, addresses the topic of "Freedom in America." [

[Download Audio: "Vernon Jordan's 1982 Speech" - 19,232kb]]
On June 9, 2007, Jordan delivered the silver anniversary address at his Class of 1957's 50th reunion. [

[Download Audio: "June 2007 Address by Vernon E. Jordan Jr. '57" - 5451kb].
Back