DePauw Symphony Orchestra Presents ArtsFest Concert Sunday
October 28, 2008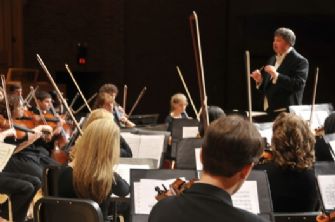 October 28, 2008, Greencastle, Ind. - You're invited to attend a performance of the DePauw Symphony Orchestra this Sunday, November 2. The 3 p.m. concert, which is being presented as part of ArtsFest 2008: Art and Borders, will take place in Kresge Auditorium of the Judson and Joyce Green Center for the Performing Arts and is free and open to the public.
"Much symphonic repertoire embraces aspects of local culture, and there is also repertoire that crosses its country's own external physical borders to exam influences that sound differently," says Orcenith Smith, director of the orchestra. "Our ArtsFest 2008 concert is inspired from that art music which reaches across those borders.
Featured on the concert will be España by French composer Emmanuel Chabrier, Capriccio Espagnol by Russian composer Nikolai Rimsky-Korsakov, Hungarian Dance No. 6 by German composer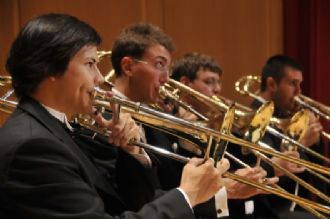 Johannes Brahms, and Sensemayá by Mexican composer Silvestre Revueltas.
Professor Smith adds, "The program is very colorful, with much tunefulness, and orchestrational change. The most unique work on the program is the Revueltas piece in that it was based on a poem by Cuban Nicolás Guillén. 'Sensemayá: the chant for the killing of a snake, is full of dramatic instrumental forces and rhythms inspired by the words, including unusual verbal phrase accentuation of African descent."
Learn more about the eleven-day ArtsFest, which begins Thursday, by clicking here.
Back