Susan Nathan to Explore The Other Side of Israel Wednesday
October 27, 2008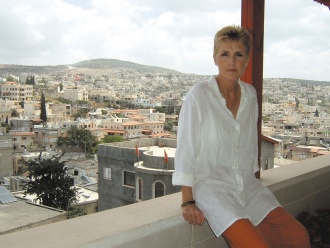 October 27, 2008, Greencastle, Ind. - Susan Nathan, author of The Other Side of Israel, will visit the DePauw University campus this Wednesday, October 29. She will discuss her experience of "the other side of Israel" -- the life of Israel's Arab citizens -- at 7:30 p.m. in the Pulliam Center for Contemporary Media's Watson Forum. The event is free and open to all.
"In 2003, Susan Nathan moved from her comfortable home in Tel Aviv to Tamra, an Arab town in the northern part of Israel," notes her publisher, Random House. "Nathan had arrived in Israel four
years earlier and had taught English and worked with various progressive social organizations. Her desire to help build a just and humane society in Israel took an unexpected turn, however, when she became aware of Israel's neglected and often oppressed indigenous Arab population. Despite warnings from friends about the dangers she would encounter, Nathan settled in an apartment in Tamra, the only Jew among 25,000 Muslims. There she discovered a division between Israeli Jews and Israeli Arabs as tangible as the concrete wall and razor-wire fences that surround the Palestinian towns of the West Bank and Gaza. From her unique vantage point, Nathan examines the history and the present-day political and cultural currents that have created a situation little recognized in the ongoing debates about the future of Israel and the Middle East."
Read more about The Other Side of Israel: My Journey Across the Jewish/Arab Divide by clicking here.
Back