DePauw's Strong Teach For America Participation Noted
October 28, 2008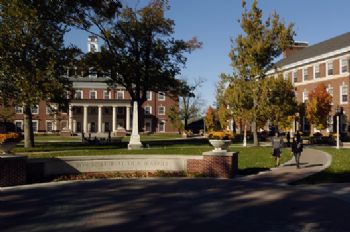 October 28, 2008, Greencastle, Ind. - "Nationally, 3,700 top college graduates joined Teach For America's 2008 corps," notes an announcement being distributed today. "They were selected for their strong academic achievement and leadership experience from nearly 25,000 applicants, including 14 percent of graduating seniors at DePauw University, 11 percent at Morehouse College and Yale University, and 9 percent at the University of Notre Dame and Harvard University."
The text begins, "Teach For America and Eli Lilly and Company today launched a program to support the efforts of new teachers working in the city's low-income communities. Lilly employees will pair with Teach For America teachers to help them get acclimated to the city and to foster networking opportunities. The Lilly employee advocates and Teach For America teachers will meet for the first time at a matching event tonight at Lilly corporate headquarters."
Teach For America -- which expanded to Indianapolis this fall -- is the national corps of outstanding recent college graduates who commit two years to teach in urban and rural public schools and become lifelong leaders in expanding educational opportunity. This year, 6,200 corps members are teaching in over 1,600 schools in 29 regions across the United States.
Read more at Yahoo! Finance.
Learn about DePauw's 2008 Teach For America class in this previous story.
Back