DePauw Team Again Wins Regional 'Ethics Bowl'
November 3, 2008
November 3, 2008, Greencastle, Ind. - For the fourth time in five years, a team representing DePauw University has won the Central States Regional Ethics Bowl, which was held Saturday on the campus of Marian College in Indianapolis. The tenth annual event featured 12 squads from colleges and universities in Indiana, Illinois, Ohio and Kentucky.
DePauw sent two teams to the competition. "Team One" -- composed of David Cylkowski, Elizabeth ("Nicki") Hewell, Lauren Lefebvre, Hallie Moberg and Todd Schmid -- won the event. DePauw's "Team Two" (Scott Conner, Shashi Kiran, Michael Sears, Robert Steele and Ben Sweeney; which included four first-time Ethics Bowl participants) also did well, winning two of its three matches. [top photo, seated, l-r: Lauren Lefebvre and Hallie Moberg; standing, l-r: Robert Newton (co-coach),
Schmid, Cylkowski, Hewell, and Marcia McKelligan (co-coach)].
By virtue of the victory, the first DePauw team earns the right to compete in the National Ethics Bowl, which will take place in Cincinnati on March 5, 2009.
"The intensity of our students' commitment and dedication to Ethics Bowl is remarkable," says Marcia McKelligan, professor of philosophy and one of the team's two coaches. "Dr. James Norton, Dean of the School of Liberal Arts at Marian College, was a judge in one of our matches; he praised DePauw's Team I for the exceptional 'clarity, cogency, force, and sharpness' of their arguments. These are the qualities they work so hard to achieve in their presentations, and it was delightful to see their efforts rewarded once again. We can't wait to start preparing for the nationals," adds Dr. McKelligan, Blair Anderson and Martha Caroline Rieth Professor of Applied Ethics at DePauw.
"I was pleased to give encouragement to Team 2 in its matches with Wright State University, University of Southern Indiana, and Northern Kentucky University," says Robert D. Newton, professor emeritus of philosophy and team co-coach. "I rarely see such commitment and intellectual enthusiasm in students as I saw in these team members. As we drove to Indianapolis in the early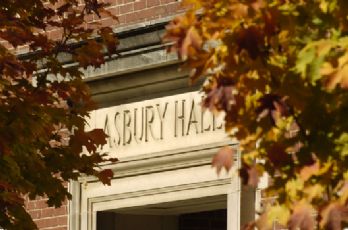 morning dark, they were still arguing the cases while sitting in the back seats of my van. And after each match, they were consumed with rehearsing the arguments they had given and the ones they opposed. This is an excellent way to help the ethics emphasis of DePauw come alive."
Professors McKelligan and Newton were assisted by Nick Casalbore '08, fifth-year intern at the Janet Prindle Institute for Ethics, who competed in Ethics Bowls while a student at DePauw.
Visit DePauw's Prindle Institute for Ethics.
Back