Seegers Named to National Honor Roll
October 30, 2008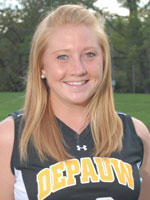 October 30, 2008, Greencastle, Ind. - DePauw senior forward Beth Seegers has been named to the Division III honor roll by womensfieldhockey.com for her performances in last week's wins over Oberlin, Hendrix and Rhodes.
Seegers scored the eventual game-winner at Hendrix with a goal during a penalty corner early in the first half and did an outstanding job transitioning the ball from the defense to the attack.

In Sunday's victory at Rhodes she scored the Tigers' first goal late in the second half off the post on a penalty corner then scored the game winner with just under three minutes left in the second overtime.
The 12-2 Tigers are ranked first in the Great Lakes Region and travel to Transylvania on Saturday before wrapping up SCAC regular season play on Sunday at Sewanee.
Back