Football Tigers Claw to 31-28 Triumph in Texas Over Austin
November 1, 2008
Also: Pre-Order Monon Bell DVD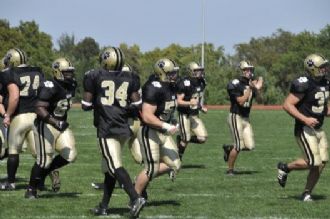 November 1, 2008, Sherman, Tex. - Freshman running back Jon Ellis scored two touchdowns -- one which covered 97 yards -- and junior quarterback Spud Dick threw three scoring strikes, leading DePauw University to a hard-fought 31-28 victory over host Austin College in Southern Collegiate Athletic Conference action this afternoon. DePauw improves to 6-2 on the season and 4-2 against SCAC opponents.
Austin, which had won four games in a row, falls to 5-4 overall and 3-3 in conference play. The Tigers have now won all three football contests between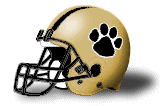 the two schools.
Austin took a 7-0 lead but DePauw tied things up in the second quarter. Three plays after a goal line stand stopped the Kangaroos, a screen pass to Ellis from Dick led to a 97-yard DePauw touchdown. The Tigers took a 13-7 advantage to halftime when Dick and Bryan Mulligan connected on a 4-yard touchdown with only six seconds remaining in the second quarter.
A 1-yard TD plunge by Ellis early in the third quarter increased DePauw's lead to 20-7.
The Tigers later scored on a 2-yard screen pass from Dick to Mitchell Willsey and led 28-14 after three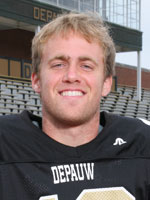 periods. Jordan Havercamp chipped in a 39-yard field goal for the black and gold's final score.
Dick (pictured at left), completed 21-of-33 passes for 319 yards. He became the University's all-time leader in total offense yards with his performance today, eclipsing the record held by Jeff Voris (1986-89). His 5,982 career passing yards are just 53 shy of Voris' school-record 6,035.
"Spud is so poised and confident," head coach Matt Walker '99 said after the game. "He's a very special player and doesn't know the word 'quit'. Our team plays so hard for Spud because of the respect they have for him."
The Tigers return to Blackstock Stadium next Saturday for their final home and SCAC game of the season versus Rhodes College. They'll wrap up the 2008 campaign November 15 in Crawfordsville where the 115th Monon Bell Classic with Wabash College will be played with a national telecast on HDNet.
For comprehensive coverage of today's game, visit the football team's Web page. A summary can be found in the Dallas Morning News.
Back