IRS Approves Program to Help Greek Units Meet New University Safety Standards
November 3, 2008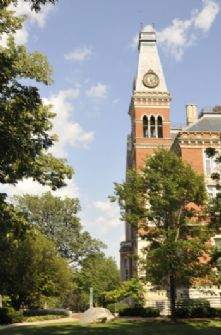 November 3, 2008, Greencastle, Ind. - DePauw University's decision to hold all residential units to the same heightened safety standards, including the independent Greek houses, is taking an important step forward. The Internal Revenue Service recently determined that the program through which independent units may receive loans to fund safety, security, and health-related renovations did not violate DePauw's tax-exempt status.
The Voluntary Greek Support Program was created as a result of the work of DePauw's Greek Fact-Finding Commission, which was created in April 2006. Following up on the Commission's report, a committee of DePauw Trustees determined the need to apply universal safety standards to all campus dwellings and designed the Voluntary Greek Support Program in order to help the non-University owned houses meet the new standards as quickly as possible.
Under this program, DePauw would either lend funds to meet necessary safety enhancements, or pay for such improvements (while retaining ownership of the improvements).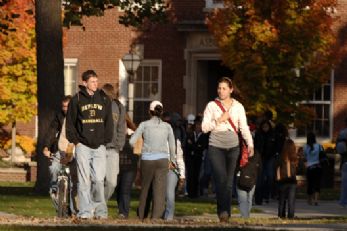 "A debt of gratitude is due all those who worked so diligently on this issue over the past several years," states DePauw President Brian W. Casey. "This thoughtful approach to improving our living units, recommended by the Greek Fact-Finding Commission, promises to enhance student life and ensure that our residential offerings are as safe as possible."
"This is welcome and positive news and will allow us to proceed with our plan, through which the University can help chapter houses help themselves and improve living conditions for their members," says R. Lee Wilson '76, who chaired the Trustee Greek Committee.
The Voluntary Greek Support Program provides support options which can be tailored to the needs of individual Greek chapters that require assistance in meeting the new standards for fire sprinklers and other safety measures through grants, loans and other options. Such support is voluntary and chapters must demonstrate financial viability to be eligible to participate in grants and loans. The University has indicated that, while safety and security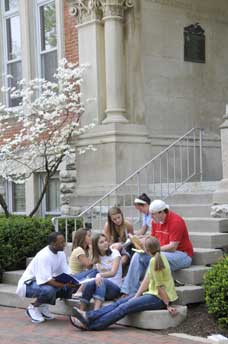 standards may evolve, there will be no unfunded mandates for houses that can demonstrate financial viability.
To date, the University has completed about $1.2 million dollars ($1,169,022) of renovations to the Greek houses and in excess of one million more ($1,029,240) for similar work on the larger University-owned housing units, all of which are now equipped with sprinklers.
"We are very pleased with the IRS decision, and with DePauw's commitment to making sure our houses are safe and secure places for students to live," said Lance DeNardin '86, chairman of the Greek Life Advisory Council. "We look forward to continuing this important work with DePauw's administration."
"We will continue to work with the Greek chapters so that they may avail themselves of the opportunities for assistance the program provides, and to ensure that we are able to bring all living units in line with our standards," says President Casey.
Back