'Monon Memories' Featured in Chronicle of Higher Education
November 4, 2008
Also: Complete List of 'Monon Memories'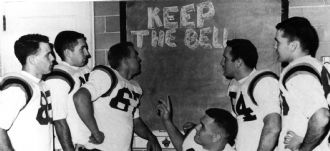 November 4, 2008, Greencastle, Ind. - "Got a minute for some football?," asks this week's Chronicle of Higher Education. "One of the most venerable rivalries in college sports, the Monon Bell series between DePauw University and Wabash College, has been condensed into ... video recaps of every single contest in the 118-year history," writes Reeves Wiedeman. The item in the publication's "Short Subjects" column examines the recently-completed series of "Monon Memories," created by Ken Owen '82, executive director of media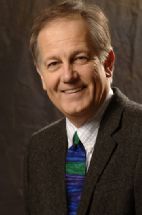 relations at DePauw.
Wiedeman reports, "In 2002 Mr. Owen began producing the newsreel-style 'Monon Memories' films to be shown during television broadcasts of the annual game. Six years later, after planning to make just 15 videos, he has chronicled all 114 games (games were not held every year). 'I kept thinking I'd hit a wall with one of these games and wouldn't have any material,' said Mr. Owen, a DePauw alumnus. 'But it all came together.' Mr. Owen found the university archive filled with old game tapes, many of which had gathered dust for 40 years. For older games without film, he trolled the Indianapolis Star, the local Greencastle Banner-Graphic, a history paper written by a Wabash student, and a handful of stories in the New York Times."
The Chronicle notes how the

locomotive bell became the winner's prize in 1932. "The rivalry has had heroes (Wabash's 52-yard Hail Mary touchdown in 2001), villains (a Wabash coach posing as a reporter in 1900 to snoop on the DePauw team), and plenty of off-field drama involving the two institutions, which are just 28 miles apart." (at left: 1908 DePauw-Wabash game)

[Download Video: "2001 Monon Memory" - 3701kb]

[Download Video: "1900 Monon Memory" - 4010kb]
The feature appears in the November 7 issue and is accompanied by three vintage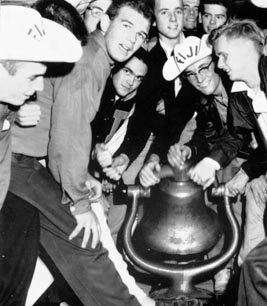 Monon Bell images. It concludes by noting, "Wabash leads the series 53-52-9, but DePauw will get an opportunity to tie it up next week at the 115th meeting of the two teams."
Access the complete text at the Chronicle's Web site (a paid subscription is required). (at right: DePauw students celebrate after the thrilling 1955 Monon Bell Classic)
The 114th and final "Monon Memory" -- for the initial game in 1890 -- was completed on October 2, 2008.

[Download Video: "1890 Monon Memory" - 4409kb]
All of the video clips will be included in a special commemorative 2-DVD set of the 2008 Monon Bell Classic, which is available for pre-order. Lower resolution versions of all "Monon Memories" can be found online by clicking here.
The 115th Monon Bell Classic is set for Saturday, November 15, at Little Giant Stadium in Crawfordsville. DePauw's allotment of tickets went on sale Monday, October 27. Details can be found in this recent story.

For the third consecutive year, DePauw and Wabash will partner with HDNet to produce a live telecast of the game in high definition. Alumni will gather at telecast parties in nearly 60 cities to watch the battle for the Bell.

[Download Video: "2007 Monon Memory" - 7808kb]
This year's contest will be the 77th for possession of the Monon Bell, which was introduced as the winner's prize in 1932. Wabash leads the all-time series 53-52-9, while DePauw leads in games played for the Monon Bell by a 36-34-6 count.
For comprehensive information on one of college football's greatest rivalries, visit the Monon Bell Web page.
Source: Chronicle of Higher Education
Back